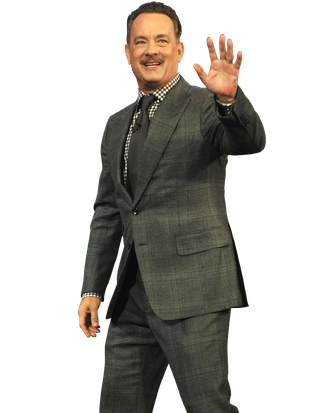 Tom Hanks
Photo: Getty Images
Tom Hanks has had as varied a career as any A-lister — from sitcom star to big-screen comedy staple to Oscar-winning dramatic actor — and so it seems appropriate to find him playing six distinctly different roles in the Wachowskis' and Tom Tykwer's new genre-spanning epic Cloud Atlas, a big and bold reminder of all that Hanks is capable of. The most important question, though, is whether the beloved Hanks is still capable of toplining a big ol' blockbuster since coming off a few live-action duds. To find out whether Hanks still has the same star wattage that he used to, we polled industry insiders to ask one simple question: If Tom Hanks were a stock, would you buy, sell, or hold?
Stock History: After the short-lived (but long-remembered) sitcom Bosom Buddies, Hanks hit it big with Splash in 1984 and then filled the next few years with so-so comedies like The Money Pit and Dragnet until 1988's Big, which brought him his first Oscar nomination and a $114 million gross. That should have been the movie that changed everything for him … and yet, Hanks struggled to find another hit until A League of Their Own in 1992, where his supporting performance was regarded as a comeback.
And what a comeback it was: Are you ready for the films that followed that one? Sleepless in Seattle. Philadelphia. Forrest Gump. Apollo 13. Toy Story. Saving Private Ryan. Now, that's career management! Hanks positively dominated the nineties, earning two Oscars and appearing in plenty of Best Picture nominees. The aughts weren't quite as high-flying: After a trio of high grossers in Cast Away, Road to Perdition, and Catch Me If You Can, Hanks alternated his hits (The Da Vinci Code and its sequel) with underperformers (The Ladykillers, Charlie Wilson's War). And in this decade … well, we'll get to that in just a bit.
Peers: "Who are his peers?" asks one talent agent. "Well, Nicolas Cage (48). [Robert] De Niro (69) … Basically, [CAA president] Richard Lovett's whole list."
For decades, Hanks, now 56, has managed to be the lovable everyman whom audiences can root for, and he's dominated his peer group to a point: If there's a big drama looking for a middle-aged star, he's surely the first to get a call … unless the role calls for sex appeal or stunts, in which case George Clooney (51), Tom Cruise (50), and Kevin Costner (57) may be in the mix. Just ten years ago, Hanks was ranked "America's favorite movie star" by pollster Harris Interactive, and unlike contemporary Mel Gibson (56) — who was No. 2 behind him in that poll —Hanks's public image remains sterling today.
Market Value: You've got to give it up for the guy: What other movie star has had so many hits that grossed over $100 million (seventeen different films!) and in so many different genres to boot? Yes, Hanks had his fallow periods and his occasional misfires, but he also had the highest-grossing film of the year four separate times: in 1994 (Forrest Gump, still his biggest live-action success at $329 million), 1995 (Toy Story), 1998 (Saving Private Ryan), and 2010 (Toy Story 3). Unfortunately for Hanks, though, his last two movies — Extremely Loud & Incredibly Close and Larry Crowne —were his lowest-grossing star vehicles since 1990's famous flop The Bonfire of the Vanities.
What Hollywood Thinks: "What does Tom Hanks bring to a project?" asks one motion picture lit agent. "Unfortunately, I don't think much at all. I don't think he means a lot to the budget these days." (However, the rep adds a critical bit of info: "There's not a lot of people who do.") Part of the reason for Hanks's lessened impact is that he has started substantially scaling back his roles in recent years. He barely appeared in 2011's Extremely Loud & Incredibly Close, and though he's first-billed in this year's Cloud Atlas, Hanks is again only part of an ensemble. 
Also counting against him is his lack of success as a director. Unlike other leading men who felt moved to call the shots as they aged out of the spotlight (like Clooney, Gibson, Costner, or even Redford), Hanks has struggled to find his sea legs behind the camera: Last year's Larry Crowne was his second feature directorial effort, after 1996's That Thing You Do, and it flopped badly, grossing barely $35 million. Where he has excelled, by contrast, is as a producer — particularly of epic HBO series like Band of Brothers, From the Earth to the Moon, and The Pacific. 
This is not to say Hanks has imploded; to the contrary, says our first talent agent. "He's still a viable guy — he doesn't hurt a film's chances [of getting made], but he doesn't get it done. Maybe at a certain budget." In short, as Hollywood might say: It's not you, it's me. 
"The star model is broken," a second talent agent explains. "Tom Cruise was always an action guy, but Tom Hanks, in his heyday, went for character parts: Philadelphia. Forrest Gump. Apollo 13. Saving Private Ryan. Cast Away. Most of the movies that were successful because of him probably wouldn't get made today. It's not so much him; it's that that's not what studios are making now." 
Still, veteran reps, especially publicists, note that Hanks's goodwill with the public is massive and will allow him to work as long as he wishes. "I think it's worse for someone like Harrison Ford," says one PR maven. "When they expect you to run around with a gun, climb a wall? Please. At 60? There's always somebody there to replace you. Everybody wants to be a leading man, but if you're a character actor, you work all the goddamn time. So I look at Tom Hanks as a staple, like flour or sugar. I don't think he gets replaced or removed. And because of that, I don't think that there's anything to 'do' for him. He will always work."
A second top publicist echoes these thoughts. "Look, if there's a problem with Tom Hanks, then we're all fucked," she says. "He's done an amazing job of evolving as a producer for HBO and features. I think that he's still one of the great leading men. He's so successful that he has the luxury of not taking whatever role is offered to him. I don't see a problem."
Part of his enduring appeal is the easy charm he deploys to sell material that's often very serious. "From an image-management standpoint, the guy goes on TV and every show wants him," says the publicist. "He's one of the great guests: wonderfully balanced between great serious talent and a funny comedic actor, in an everyman leading kind of way. He's never been the guy that was perfectly good-looking, but we're able to just completely fall in love with him because he's good-looking enough. He's our Jimmy Stewart, not Cary Grant."
The Analysis: Hanks, of course, has made a career of playing regular guys in difficult situations, and like Stewart, his quiet, almost selfless brand of American heroism will be on display again soon in the rare tentpole that isn't a sequel, reboot, or comic-book movie: Sony's Captain Phillips, directed by Paul Greengrass, in which Hanks plays the American cargo skipper who ransomed himself to free his crew from Somali pirates. He's also prepping for In the Garden of Beasts, a film from The Artist director Michel Hazanavicius, in which Hanks both produces and stars as a mild-mannered college professor who finds himself appointed America's ambassador to Germany just as the Nazis are consolidating their power and moving against Europe.  
Any star would be champing at the bit to work with directors at the level of Greengrass and Hazanavicius, and seeking out A-list helmers has been Hanks's raison d'être in recent years. That's why you can't blame him for working with names like Stephen Daldry, the Coen brothers, and the Wachowskis … even if none of the films that came from those partnerships (Extremely Loud, The Ladykillers, and Cloud Atlas, respectively) were the kind that knock both critics and audiences flat, like Hanks managed in his heyday.
Still, while our PR expert admits that "the state of the industry is changing away from the kinds of movies [Hanks has] been associated with, in that they tend to have a number at the end of them," conforming to this trend should not be Hanks's goal. "I don't really want to see Tom Hanks in a Batman movie," she says. "Maybe he and Judd Apatow need to have lunch." 
The Bottom Line: "The Da Vinci Code was a huge success in terms of global box office, but … well, there's no reason he couldn't have been in Argo, you know?" notes another manager. "I don't know if his salary requirement prevents that or if he'd be willing to work with Ben Affleck for $100,000 in a smaller, interesting part, but I think he is an American treasure. I also think that he's one Jason Reitman, Alexander Payne, or Ben Affleck movie away from showing that again." Certainly, Hanks must have those helmers on his radar; let's hope they come to him in turn with their best work.
Buy/Sell/Hold: Hold.