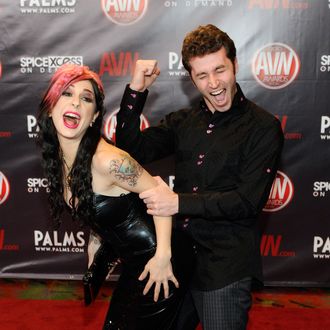 James Deen.
Photo: Ethan Miller/Getty Images
It's Sunday afternoon — your last chance to read all that stuff you meant to read last week before Monday brings a new deluge of things you will want to read. Below, some of our recommendations:
"James Deen vs. the Nebbishes" by Josh Lambert (Los Angeles Review of Books): Is James Deen good for the Jews? 
"Cinemetrics: Oh, the Horror" by Zach Baron (Grantland): One critic bravely comes to grips with his scary movie problem. 
"Susan Boyle's Fairy Tale Dream Tempered by Reality" by Jill Lawless (Associated Press): Ever wonder what happened to Britain's Got Talent star and YouTube sensation Susan Boyle? Spoiler: It's not good. 
"The Hobbit: Inside Peter Jackson and Warner Bros.' $1 Billion Gamble" by Kim Masters (The Hollywood Reporter): A visit to Peter Jackson's New Zealand filmmaking Mecca and sneak peek at his new film, the motto of which could well be "panting, exhausted, and action!"
"Bardem: I'll say 'whatever the hell I think is right'" by Andrew O'Hehir (Salon): The Skyfall villan is surprisingly well-informed when it comes to the little-known refugee crisis in the Western Sahara. 
For more in-depth weekend readings, visit our friends at Longreads.