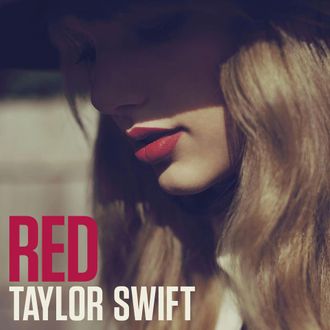 Billboard is reporting Taylor Swift's Red debuted with 1.208 million copies sold this past week. Take a second to imagine more than a million Americans walking into stores or pushing Buy right now, in 2012. Now stop imagining and digest a fact: No album has sold that much in a single week since 2002's debut of The Eminem Show, which 1.322 million people purchased. It seemed impressive just weeks ago when Mumford & Sons released their sophomore LP to the tune of 600,000 copies, blowing away Justin Bieber's until-then-2012-dominating 374,000 for Believe and Madonna's 359,000 for MDNA.
Other crazy Swift Stats: Red, her fourth record, is only the eighteenth album to sell more than 1 million copies in a single week since Soundscan began tracking sales in 1991. It's the eighth-highest single sales week for any record in those 21 years. It's the second-largest sales week for a female artist ever, only bested by Britney Spears's debut hitting 1.319 million twelve years ago. Perhaps Swift's biggest bragging right is becoming the only female artist — again, since Soundscan started documenting all this in '91 — to boast two weeks selling more than 1 million albums. (2010's Speak Now moved 1.047 million copies its first week.)
And yes, Lady Gaga's Born This Way debuted with 1.108 million sold as recently as May 2011, but that whole effort was available for 99 cents on Amazon for two full days. It doesn't appear Red was sold for less than $9.99 anywhere.