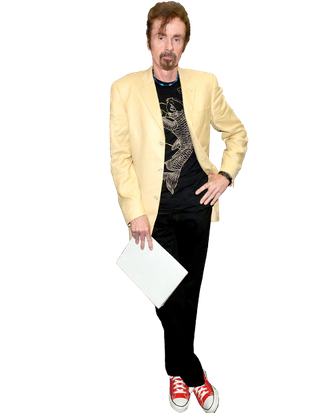 T.C. Boyle
Photo: Dario Cantatore/Getty
T.C. Boyle's new novel, San Miguel — his fourteenth (to go with his nine short-story collections, with a tenth due out next year) — is now in bookstores. The subjects of Boyle's imaginative novels often alternate between wild-eyed eccentrics or lowly outsiders and fictionalized takes on real historical figures (Alfred Kinsey, Frank Lloyd Wright). San Miguel is in the latter camp, and yet with a difference: Boyle says this is his first "realist" novel. Set atop a weather-battered rock pile that makes up the westernmost of the Channel Islands on California's coast, San Miguel alternates between the diaries of two women — one from the 1880s, the other from the thirties — to tell how they dealt with life on the lonely spot. Vulture caught up with the prolific author at Chez Jay in Santa Monica, where Boyle opened up on topics as diverse as self-discipline, his daunting competitiveness, and why he will never adapt one of his own novels for the screen.
You've been publishing fiction since the late seventies. Is there anything that's been written about you that's become conventional wisdom but is patently false?
I don't pay too much attention, but I will tell you though that your press likes to "get a handle" on you — and once they do, that's it forever, no matter what. So the handle on me, which is beginning to wane, finally, is, you know, He was a heroin abuser. He was a punk who sang in a band, but he pulled himself up and he writes these crazy books. Well, okay: true. But that's a long time ago. And I still write crazy books, but it's a different story now. I'm also a professor and I work hard at what I do. It's not like you can be out in a club all night and then be a great artist. You gotta live a regular life and devote yourself to your art.
You also teach writing at USC. What do you hope to teach the kids studying literature under you.
I don't teach literature. I teach a writing workshop — only. And I don't teach them anything: We just write. They publish their work for the class; we read it, we write about it, we interpret it — and the writer says nothing and just listens. That might be instructive, or it might not. No promises made.
Are you more concerned with the next generation of writer or reader?
I hope reading continues. I mean, we have a busy society. Electronically obsessed. Handheld devices. No time for contemplation; no time to unplug. That's tough. It's like the two things I'm trying to defend are literature and nature. A lot of people have no experience of either one, and it's less and less likely that they will. Thank God we have virtual reality, because real reality's practically gone. I don't know. I do what I can. I give a good show. I try to attract people to literature; I believe in it.
I just got a Kindle, and I resisted getting the Kindle Fire because it connects to everything — TV shows, movies! — and when I am reading, I don't want to connect to anything except the book.
Yeah, me too. I think interactive books are a mistake — even interactive textbooks. It takes you out of the story; it breaks the spell. There's a spell going on here. If I find a word I don't know, or a concept I don't know, I might jot it down quickly, but I don't want to break the book. Now, of course, you're tempted to go off. I have to go to the Internet, in a given writing period, twenty times. But I do not get seduced into it; I never read beyond what I need.
How do you avoid being seduced by the web?
Rigid discipline … A lot of people have a great talent, like my students, for instance, but: Can they perform as an artist? It takes luck, of course, but it also takes tremendous determination and discipline. So that's how I avoid being seduced by it: I shut it off.
Years ago, I think it was Ivan Lendl who said the thing that makes a tennis player great isn't just hitting the ball, but the ability to shut out the distraction of the 30,000 people coughing and sneezing and talking in Flushing Meadows …while hitting the ball.
I suppose. But his creativity was in the moment, and it's reflexive. And further, to be a great tennis player, you have to be an automaton. You need to be perfect with your ground strokes, otherwise it won't make that loop over the net.
You play tennis?
I don't play anything. I'm too competitive — too crazily competitive — to play anything. But I did play tennis. I was in Mohegan Colony [as] the tennis pro one summer. That meant that I taught the wives, and then had to whip the husbands on the weekend — a psychologically devastating task. [Laughs.]
You say you're crazily competitive? How?
For instance, I walk by myself in the woods, muttering. That's my main sport. I don't want to lose. I don't play any games; I don't play chess, checkers.
Give us an example of where you did something ridiculously, overly competitive, given the banality of the situation.
Uh … I wrote 24 books?
Were you always like this, or has it gotten worse?
You know, it's funny: More and more, I am inwardly driven, doing my own thing, to the exclusion of practically everything else. I don't understand the guys who are playing golf or who'll tennis with each other every day, or play cards or gamble. It has no interest for me. At all. I don't want to play something competitive; it's not fun for me. I don't want to lose it; I want to be great at it. That's why I don't do music. I'll never play any music again. I mean, what are you going to be? A musician or a writer? I don't think you can be both. I know I'm missing out on lots of things. It's like that in every possible way of competition. I don't want to compete even in such a trivial thing as playing a game of cards with friends.

You're big on discipline. You have a routine? When do you wake up?
I'm a regular 7/11 kind of guy.
When you wake up, do you remember your dreams?
If I do, it's only briefly. Only once in my life did I have sort of a waking dream and made a story of it. But I will say this: Every day, in the middle of work, I take a five-minute nap. Shut the machine down, and take the five-minute nap. Almost always, the dream that I have when I take the five-minute nap is, this: I'm working, typing away, but I'm really, really tired, and should take a nap. And I wake up, and think, Wow! I am taking a nap! I have taken a nap! [Laughs.]
You dream that dream every time, and you'll never be sad.
I know, and it's odd. Because, why aren't I dreaming about sex, or conquering the world or something. It's always this same thing when it's the five-minute nap, you know?
Maybe I'm weird, but I never have sex dreams because it seems to be so humiliating to wake up and realize that —
And not be doing it.
Yeah, that you were just dreaming that. It seems inherently pathetic.
One wonderful thing about sex — and I've pointed this out in some of my work — is that, speaking from the male perspective now, if you don't have it, it's all you can think about. And it dominates your entire life. Then, you have sex, and one minute later, you want to go shoot some hoops. It's so crazy. [Laughs.] But again, we are animals. And that's the way we are wired. That's the thing that most obsesses me: Our lives as animals on this planet.
Well, pursuant to that, do you like writing? Or, do you like to have written?
If you asked me that 30 years ago, I might have said, "I like to have written." Now I think it's more of an obsession. It's a kind of addiction to make art. One of my best friends here in L.A. is [Chilean painter] Pablo Campos. He knows I'm coming, like, for dinner or something. But he's not ready yet. He's always in there. I've come up on him and he doesn't even know I'm there. He's painting. This is what he does. He's obsessed with it. And I'm obsessed with making art also to the exclusion of everything else.
That's changed for you.
It's the process that's fascinating and it gives you something to do in life. Everything that we do is irrelevant. Nothing matters. Whether you're a serial killer, or make art, or are Mahatma Gandhi — it doesn't matter. All we know so far on this Earth is that the only purpose of life is to make more life. So, you need to have a purpose. And all purposes are artificial. This is my purpose.
Every writer, good or bad, they are individuals, from generations of individuals, and they've had individual experiences that no one could ever have, that nobody could write exactly the same story, whether it's good or bad. So it's a testament to somebody being alive to make something. Whether it's making a chair or writing a novel. It's work. Work, to me, is salvatory. Because I could have gone the other way. I could have been out here with the bums on the street, very easily.
You believe that.
No. But I come from a long line of alcoholics on both sides of the family. I just have this high, high energy level and this work ethic. And I don't feel good unless I am actually working. Again, I can step back and see that it's all preposterous; it doesn't really matter — but it matters to me. It's a way of doing something, even as you're not really doing anything; you're just wasting time. You might say you're wasting time reading a novel, but, in fact, it's an entertainment, and you enter it as an individual also. You're doing the same thing the writer did on the other end of it.
A lot of your books are about men — and just as often, screw-ups. But not your new one, San Miguel.
I have to admit that the characters that I write and feel closest to are the sort of "punks" – characters who know no gods or masters. Picaresque characters, like [the petty criminal] Ned Rise in Water Music. Which is why, by the way, in this latest novel, I decided to see if I could do a long, historical narrative — straightforward, no irony — in the point of view of women … I tried something totally different here to see just what it would be. You want to push yourself and change, or you write the same thing over and over again.
So, this is the first "realist" kind of novel you've done?
I think, ever. I think "ever," because I've written many [short] stories, especially in recent years, in a straightforward, "realist" mode, but I hadn't done an extended narrative without irony. You know, there are gripping and realistic portrayals in many of my books, but there's always an ironic sense to the narration … Overall, its tone and mode is comic. This one? I tried to erase that altogether to see what would come of it. It began in a naturalistic mode, but I did think I would also have the male point of view. And that's a difference, too: It's just a purely female point of view. This is a little different for me. But again, I think as an artist. And by the way, I should tell you that in order to channel the female characters, I typed while wearing a skirt throughout the entire novel.
You're kidding.
A joke.  
Do you ever regret having written something?
No. No regrets. Early on, when I first started writing stories, I would write a complete story, realize, "It's not very good," and throw it away. Since then, I don't throw anything away, because I am self-editing. I start writing a paragraph, or a page, and if I realize it's not working, I don't pursue it. Everything that I've ever done, that is published, I stand behind. I like it. I am also an artist that wants to move on. I would never rewrite an old book. To my mind, those are finished works, as good as they can be in that moment. I have a lot of ideas, but I don't look backward as an artist. Next! Next! That's what keeps me going.
Let's talk about Hollywood for a second. Everything you've written has been optioned, and several books have been made into films. And yet you've never adapted your own books. Why?
Even when I first got here, and people would invite me to lunch, it was invariably because they wanted me to adapt one of my things into a screenplay. Which is an interesting prospect — there are books that I love that I could see as movies — but: I don't want to work for anybody! I don't want to be part of a team. I don't want anything to do with it, and I never worked for money anyway. Money has, very luckily, kind of come along with my fan base as I needed it, and it's been great. So I've never had to write to deadline, I've never worked with anybody. I've never had to do that; I don't want to do that. No matter what the inducements are.
So if I said, "Here's 5 million dollars, will you write the screenplay … "
The answer is no. The answer would always be no. Even when I had no money.
And there's no zero I could add to the figure at which point …
[Laughs.] Listen. What is the national debt now?
I think it's 16 trillion dollars?
I'll do it for that. And I'll pay it right off. I'll write Obama a check!