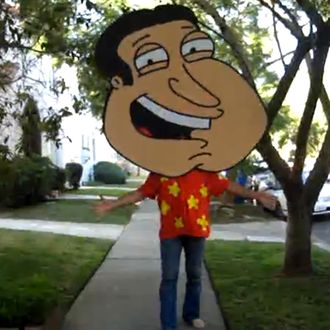 We continue to obsess over Halloween costumes because, well, duh, look at your calendar. There isn't much time left until the 31st, so maybe some of these getups — all based on cartoon characters — will provide some inspiration. If you could possibly avoid weird dancing in your costumes, we'd really appreciate it. Or at least don't film and upload it to YouTube, because these videos kind of give us the heebie-jeebies.
Marge and Homer Simpson.
Marge Simpson, solo.
Bender (from Futurama), in a basement.
Family Guy's Stewie.
Family Guy's Quagmire.
"Daffy Duck," maybe?
Disney villain Zeke Wolf.

Aqua Teen Hunger Force's Master Shake.

Yo, Charlie Brown dances! And it is weird!
And, finally, Fratty Papa Smurf.