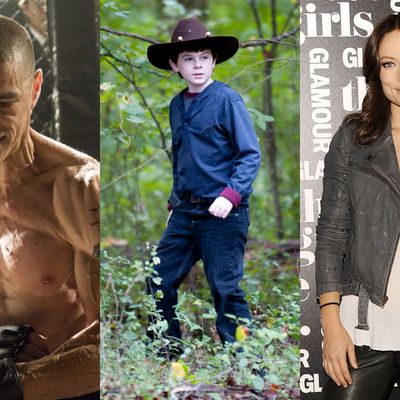 Photo: Summit Entertainment; Gene Page/AMC; Patrick McMullan
Every week, Vulture faces the big, important questions in entertainment, and comes to some creative conclusions. This week we delved into such pop cultural issues as: Who would the people of Dillon, Texas vote for? Can Variety be saved? Of his many crazy parts, which Christopher Walken role was most psychopathic? What's up with Olivia Wilde's vagina? In case you missed them, here are the conclusions we came to on these and more pressing questions.
Q: Who or what does Matthew Fox resemble in next weekend's Tyler Perry/James Patterson film Alex Cross?
A: Kyle Buchanan dissected Fox's freakishly ripped bod and posited the various things it looked like. We all exercise to hopefully look like a pumpkin crossed with a peach pit, right? 
Q: What's nerdier than crossword puzzles and magic?
A: Crossword puzzle magic! Helen Coster profiled David Kwong, a wordplay-based magician. His fans include David Copperfield, New York Times puzzle editor Will Shortz, and Mumford & Sons. Will you join that group of folks that have never before been listed together?
Q: Will The Walking Dead's Grimes family have more fun being chased by zombies at the Coca-Cola Museum or the North Georgia Premium Outlets?
A: Neither, because they are a miserable family and there is that whole zombie thing. Still, Amanda Dobbins determined where in the Atlanta metro area it would most fun to watch them be miserable. Russian Coke, here we come.
Q: Can Variety return to its former glory after being purchased by Penske Media?
A: Maybe! Claude Brodesser-Akner tried to answer this question by laying out the three obstacles to Variety's future. He also addressed the one question everyone was really wondering about: What about Nikki Finke?
Q: Will the election cause a rift between Coach Eric Taylor, Tami Taylor, and Julie Taylor-Saracen?
A: No, nothing could ever break apart Friday Nights Lights' Taylor family; however, there is likely a major difference in terms of how they'd vote. Jesse David Fox went through all of the main FNL characters and determined whom they'll be pulling the lever for come November.
Q: What are the rules of Olivia Land?
A: As outlined by its founder, Olivia Wilde, it includes: seven-year caps on relationships, legalized prostitution, dark-chocolate-paved streets, and more! Jenni Avins was at the event, at which Wilde explained her rules, and was able to catch up with her afterward to get this last tidbit: "Also, "[Men] are not allowed to be the only ones thinking with their genitals. We think with our pussies. "
Q: Was Christopher Walken more psychopathic in The Deer Hunter or Pulp Fiction?
According to Adam K. Raymond's ranking of Walken's 11 most psychopathic roles: The Deer Hunter. However, there are still other roles that are somehow more crazy.
Q: How did the Armadillo cake in the Lifetime remake of Steel Magnolias compare to the one in the original?
A: Favorably, which is actually unfavorable, since the cake is supposed to be gross-looking. This is just one of Julie Klausner's eight issues with the remake of Steel Magnolias. Can't mess with cake-based plot points, Lifetime.
Q: Is Community going to be okay with Dan Harmon out of the picture?
A: Maybe! Possibly! Well, if it ever gets on the air. Josef Adalian interviewed new Community showrunners David Guarascio and Moses Port about their plan for season four. Good news: Guarascio's favorite episode of the series thus far was "Cooperative Calligraphy" and Port's was "Advanced Dungeons and Dragons." Those are great episodes.
Q: Who was able to get the NFL to finally endorse a feature film?
A: Ivan Reitman and Kevin Costner. Claude Brodesser-Akner reported that the NFL, which has famously been a tough nut for Hollywood to crack, is not only thinking about endorsing the Reitman-Costner football film Draft Day, but they might invest some money as well. Bad news: The whole thing is going to be set on water.