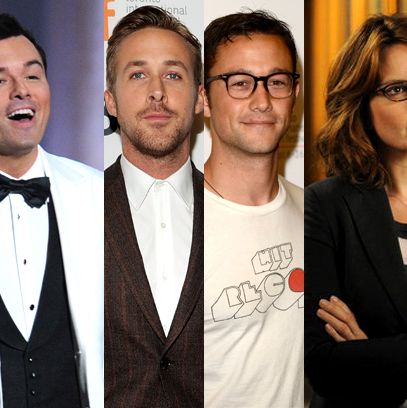 Every week Vulture faces the big, important questions in entertainment, and comes to some creative conclusions. This week we delved into such pop cultural issues as: How much of a payoff is there to being an indie rock star? Exactly how ridiculous are the Gallery Girls? What do Ryan Gosling, Joseph Gordon-Levitt and Shia LaBeouf have in common? Who does Daniel Day-Lewis sound like in the Lincoln trailer? In case you missed them, here are the conclusions we came to on these and more pressing questions.
Q: Is it worth it to be an indie rock star today?
A: No! Yes? Depends. As music critic Nitsuh Abebe writes in his story about Grizzly Bear and the economics of indie rock, the question "is a funny and unsettled one, and its answer might depend on your perspective."
Q: Are the stars of Gallery Girls ridiculous?
A: So, so ridiculous. Margaret Lyons details the twenty lines from the show's first season, which just ended, that illustrate this conclusion. Try this one, from one character attempting to describe the influences on her photographic work — "I'm really inspired by moroseness … and cinema?"
Q: Can 30 Rock's best jokes be presented in a more scientific manner?
A: Good news for left-brained people who prefer their humor delivered more analytically! Jesse David Fox broke down ten of Tina Fey's show's most classic gags into infographic form.

Q: Who has harder days, Carrie Mathison or Homeland showrunner Alex Gansa?
A: Based on the one day that Denise Martin trailed him, we're going to say Gansa, who had to attend to five different episodes all in the course of about seven hours. Read her piece here. (Contains mild spoilers and hints for the rest of season two.)
Q: Do people actually recognize the recently chosen Oscar host Seth MacFarlane?
A: Well, he was just on SNL, runs (and voices) several super successful Fox animated comedies, and had one of the summer's biggest movie hits with Ted. So, if you're a dude, probably. But still, Seth MacFarlane? Our Kyle Buchanan looks at the seven burning questions behind the unexpected hosting choice.
Q: How much do Joseph Gordon-Levitt, Ryan Gosling, and Shia LaBeouf have in common?
A: Kyle Buchanan and Amanda Dobbins break down the similar trajectories of the former child stars who are now intent on doing intense adult work in handy dandy chart form, as we like to do here at Vulture.
Q: Does British actress Emily Blunt have a more convincing British or American accent?
A: Surprisingly, counterintuitively, she has a slammin' American affect. Which makes no sense, right? Jesse David Fox makes a convincing case right here.
Q: Who (or what) does Daniel Day-Lewis sound most like in the trailer to Lincoln?
A: Kyle Buchanan, Amanda Dobbins, and Margaret Lyons (team effort, people) throw out some modern-day analogues for the Great Emancipator's voice. The Vulture office voted on a cross between Abe Simpson and a screaming goat. But take a look here and choose for yourself.
Q: What weird habits does Parks and Recreation's Adam Scott have?
A: Who better to answer that question than Amy Poehler, who spoke to Jada Yuan about her co-star's peccadilloes.
Q: Should you be ashamed to still be watching America's Funniest Home Videos?
A: No! No, no, no! Head Vulture Josh Wolk proudly confesses to his multi-decade love for AFV and breaks down the five most reliably funny video types.