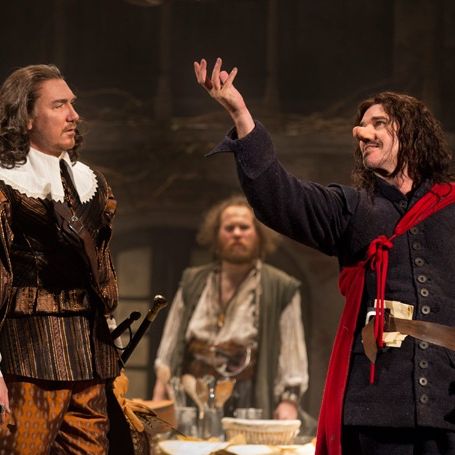 Cyrano de Bergerac is the patron saint of the young, the nerdy, the nobly and reluctantly virginal—and it's no mystery why. We're fed Edmond Rostand's deathless play in high school, we absorb it as something it isn't (a seriocomic be-yourself fable), and we celebrate the cavalier who's too rude for polite company, too smart for fatuous social climbers, too tough and too agile to be brought down by brute force. He's essentially a Marvel superhero: exceptional in every regard, but burdened with an extra something—the massive schnozz that cripples him romantically even as it marks him as extraordinary. Cyrano is a direct forefather of the Thing and the X-men, a rambunctious, wisecracking monster-hero combo. He's more than a nerd with a chip on his shoulder: He's powerful, charismatic, even popular … but not, he fervently believes, lovable. His seclusion is his curse, but it's also the source of his power.
He is, in other words, a stealth narcissist, like most gifted outcasts whose exile is largely self-imposed. The arc of Cyrano—who lends his poetry, his brains, and his charm to a witless but good-looking rival, in order to vicariously enjoy the affection of his long-pined-for lady-love Roxane—is a youth fantasy, tapped by Rostand 115 years ago and still unsurpassed. So when, I ask, will we get a youth-driven big-ticket revival? Here's a role we reflexively associate with Jose Ferrer, a fortyish Depardieu, the latter-day Kevin Kline, forever-middle-aged Steve Martin, and now Douglas Hodge, the Tony-winning exploding fireplug of the recent La Cage aux Folles—who, for all his exquisitely focused energy, is clearly operating in the early autumn of his discontent. Will we ever see a young Cyrano on Broadway? Or anywhere? Is it simply the paradox of the part that this figment of adolescence simply requires the heft and skill of an older man?

British upstart and Donmar vet Jamie Lloyd's new production shows signs of rising sap, and features a great many moments of surprising verve, and a few deathly stretches of crepuscular indulgence. (There are deep, dank shadows of self-seriousness hanging over everything, from Soutra Gilmour's dungeonlike sets to Charlie Rosen's score, and that can be a killer for any Broadway megaproduction involving wigs and frocks.) But he's got a deep bench of young talent in smaller roles (including off-Broadway comers Ben Steinfeld and Andy Grotelueschen) and a snappy newish translation from Ranjit Bolt. (The rhymed couplets, perhaps intentionally, recall David Hirson's La Bête.) The great Patrick Page brings his expertly layered, basso profundo villainy to the heavy, scheming Comte de Guiche. The whole thing is fairly fleet-of-foot—until it's not. With so many drastic trims to the opening, I wonder why Bolt and Lloyd didn't explore further cuts within, if only to maintain propulsion. This particular take on Cyrano feels like it'll sustain two hours; it's asked to keep hacking away for two and a half. Unnecessarily, I think.

No matter: the centerpiece is and must be Hodge, who serves himself flambé in the title role. Hodge, as we saw in La Cage, can play a pathetically insecure extrovert like nobody's business. His Cyrano, like his Albin, cloaks his inner fear in fantastical outer flourishes. This is a role that practically mandates the devouring of scenery, and Hodge does so, but he looks as if he doesn't like the taste. He's funny, he's forceful, but he doesn't really look like he's having enough fun. The weight of the world is on him; yet he's under contract to dance like a young buck. Hodge is an enormous talent, and he does excellent work, but it does sometimes look like work.

Lloyd gives him quite a workout in the first 30 minutes, and his palpable exhaustion at the end gives us a window into the real man behind all the iconoclastic song-and-dance. But his romantic quest is thwarted not by the fleshy protuberance above his mustache (quite phallically engorged here) but by casting and dramaturgy. Our Roxane is Harry Potter veteran Clemence Poesy. Poesy, who speaks English with a noticeable but un-distracting accent, is hardly a teenager, but she reads as one in the part. It's a strong choice, to be sure—this Roxane feels a full generation apart from most of the men on stage—but it's also one that puts her at quite a distance from Hodge's aging Scaramouche, whose feats of wit and swordsmanship come off here as game attempts to stave off male menopause. Cyrano is not a play about an older man's fanciful love for a perhaps-too-young woman, whom he does not and perhaps cannot actually know. Yet this is how the play has started to wear, after years and years of age-inappropriate Cyranos. Lloyd's production, alternately logy and light on its feet, seems the creation of a director who started to sniff out something younger, something frowsier and randier and more full-of-heartfelt-baloney—but then drew back. I wish he'd followed his nose. 
Cyrano is at the American Airlines Theatre.