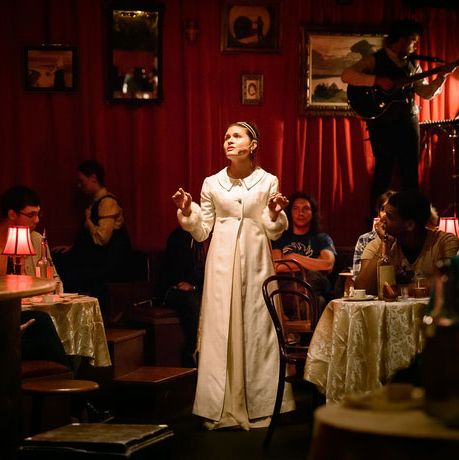 Helen & Edgar
"Mother used to always say to us, 'Savannah is a trap. It'll try to imprison you; even if you manage to get away, it'll find a way to drag you back.'" The voice delivering these words and the story that follows is one of the most unique and sorcerous you're likely to hear in this world: Imagine olde English chanted by Charles Laughton, pumped through molten rock, extruded with a taffy-puller, and translated imperfectly back into contemporese. (Vowels and dipthongs emerge in forms that don't correspond to any known dialect.) This is the voice of Edgar Oliver, writer, poet, and mainstay of the Moth. How did this man of frail and elfin late-middle-age — with his large, expressive eyes and translucent-looking hands folded protectively over his heart — end up with these plutonic pipes, these inscrutable affectations? And are they affectations? The next line offers a clue: "Mother also used to say, Beware of other people. They won't understahnd you. We're diff-erent. We're … ehhrrtists."
Helen & Edgar ravels out a tale as sui generis and unclassifiable as Oliver's accent: a hopscotch accounting, funny and frightening, of his Savannah childhood with his sister Helen and their mother, who struggled with mental illness — or rather, didn't struggle but simply merged with her madness, which she seemed to consider a natural adjunct to the artistic temperament. (She was a painter, and Wright displays her haunting work in the fermatas between stories.) "Mother" saw their trio as three children against the world (father was long gone, a morphine suicide), and she did everything she could to transform their lives into a Gothic novel, right down to living in a haunted house ruled by palmetto bugs, packing the family up on strange, aimless train trips up the coast, and evacuating the house on the advice of a Ouija board. Beneath these comic episodes is utter Southern darkness, the separatism of the artist run amok, arrested development and crippling anxiety — the stuff of vintage Dixie dread. Oliver, with nothing but his alien timbre and a few perfectly chosen gestures, captivates and mesmerizes as we laugh and gasp at the agonizing, exhilarating upbringing that shaped his one-of-a-kind voice, hewed it out of insanity, chaos, and, most troublingly of all, love.  

Helen & Edgar is playing at Theater 80 through October 27.

Don't Go Gentle
Women, mostly ignored or underestimated, embroider the edges of Don't Go Gentle, a boldly premised, blurrily executed new drama from Stephen Belber (Tape); but at its core, this is a story about three generations of difficult men, represented here by three superb performers. First, there's our aging patriarch, Lawrence (expert crank Michael Cristofer), a retired conservative hanging-judge and Bush 41 appointee, who sent thousands of minor offenders upriver in the early Giuliani years. Then there's his neglected son Ben (David Wilson Barnes), a sullen Gen-Xer and ex-junkie on a permanent, stuttering journey of spiritual growth. And finally, there's Rasheed (an excellent Maxx Brawer), the quietly furious 16-year-old son of Tanya (Angela Lewis), a working single mom and first-time offender who's facing felony charges. (Lewis is strong in a thankless role.) Lawrence takes on the case, at first grudgingly, then with increased enthusiasm — is he seeking redemption for his years of principled pitilessness? Or replacements for the children he's alienated? Ben, whose resentment curdles into hate (does anybody do this sort of thing better than Barnes?), thinks the latter. Lawrence's endlessly patient daughter Amelia (Jennifer Mudge) is willing to give him the benefit of the doubt, but only up to a point. (Mudge delivers one of the most delicately violent kiss-offs I've ever seen onstage.)
Belber has written a tight little parlor-tragedy of white guilt that's about one or two wrinkles of moral complexity away from being truly interesting. He gets points for engaging under-engaged subject matter and for staging some fiendishly good actor moments. But, as directed by Lucie Tiberghian, these moments, for all their power, do feel staged. In the end, Lawrence is just too elusive a character, and he shows telltale signs of composition and aggregation — we don't really feel we know the man beneath the endless self-justification, and we're not sure Belber does, either. When Lawrence's sentence is finally carried out, a bit neatly, at the show's conclusion, I experienced a strange impassivity, as if justice had been done in a vacuum. A kind of mute vengeance is being taken on this character, this straw-reactionary, and it feels symmetrical but not exactly satisfying.        

Don't Get Gentle is playing at the Lucille Lortel Theatre through November 10.

Natasha, Pierre & the Great Comet of 1812
There's a special, clown-car thrill in seeing (and hearing) much-too-much packed into a space much too small. That's certainly the case with Natasha, Pierre & the Great Comet of 1812, a massive electropop chamber-opera based on (what else?) War and Peace. (Parts, anyway: Most of the plot seems to have been cherry-picked from Book Two, before Napoleon shows up and shit gets real.) In this un-reproduceable production from inimitable indie-composing powerhouse Dave Malloy and director Rachel Chavkin (the team behind Three Pianos), the confined precincts of Ars Nova have been transformed into a decadent Russian supper club. (Think the Tea Room, in opulent miniature.) Each tiny table groans with vodka, dumplings, and black bread, and the sheer density of talent whirling around you is headspinning. (Literally. The ensemble circulates freely around the floor, atop the banquette backs, and occasionally takes a seat at your table — a limber neck is recommended, if you want to take it all in.)

Malloy himself plays the melancholic Pierre, a rich bastard — that's a technical term amongst the White Russian gentry — in a bad marriage. From his Dr. Teeth–like perch in the makeshift orchestra pit (which overflows into other parts of the room), Malloy/Pierre conducts the sumptuous pop roilings of his two-and-half-hour score, as we meet the beautiful, naïve Natasha (Phillipa Soo); her Jiminy Cricket cousin Sonya (velvet-voiced Brittain Ashford of folk-pop outfit Prairie Empire); preening, vampiric ladykiller Anatol (Lucas Steele); and a dozen other characters — the show's spectacularly raucous opening, introducing the dramatis personae via a mad, jokey polka, is one of its strongest moments. But Natasha, Pierre is, on the whole, utterly sincere in its errand: Malloy and Chavkin show great affection not only for Tolstoy but for the bloated nineteenth-century novel as a form, and they reproduce its repetitions, digressions, and obsessive annotations in music-theater form. What's it all for? Mostly the glorification of itself: This is a look-ma-no-limits show, with no small amount of self-indulgence in its DNA. (We feel it the moment Malloy, who is not a strong singer, takes center stage as the sad-sack gravitational center of his own show.) Philistine that I am, I can't help but suspect it could be an hour shorter and just as good, if not better.

But if Natasha, Pierre is mostly about youth, virtuosity, and the collegiate pleasures of showing off, it's still packing more than enough to impress. Mimi Lien's environmental design looks incredible and functions magically, with hidden-in-plain-sight corridors of action that Chavkin puts to thrilling use. Bradley King's distributed lighting design is spellbinding in its mood-management and focus-shifting, and Matt Hubbs's sound design is a miracle: I don't think I've heard such perfect balance in such a challenging space. No small credit goes to Malloy's arrangements for his compact-yet-huge-sounding micro-orchestra; distinguishable motifs and standout arias are hard to find here (Ashford's Sonya is given the best of the bunch), but Malloy's capering pop ostinatos are tops. You'll be tapping your toes in a floating world — even though there's little sense here of urgency, foreboding, or borrowed time. Natasha, Pierre feels like the product of a generation that's lived the entirety of its existence in a suspended sentence: Napoleon is always coming/Napoleon is never coming. Play on! And on! And on?

Natasha, Pierre and the Great Comet of 1812 is playing at Ars Nova through November 10.

Him
Daisy Foote's Him is an understated drama of demonic possession, and director Evan Yionoulis has the actors recite it reverently, deliberately, trying to incant the exorcism just so, as if the words were breakable. The result: moments of delicate beauty … and also moments of tottering stiltedness. Foundering adult siblings Henry (Tim Hopper) and Pauline (Hallie Foote) are back in their childhood home in small-town New Hampshire taking care of their dying father — the unseen "Him" of the title — and their developmentally disabled adult brother Farley (Adam LeFevre). Papa wasn't much of a papa to his kids; he's leaving them with a failing grocery store, nothing in the kitty, and very little in the way of life skills or expressed love. But he had a secret: a patch of valuable, undeveloped land that was his sanctuary. He wanted no one to possess it, in any Lockean sense of possession — he preferred it to remain a state of nature, refuge from a hungry, all-consuming human world he found disgusting and intolerable. This human world, unfortunately, included a family that's been slowly dying of his neglect.
Who'll be the recipient of his legacy? Lovelorn Henry, a soft touch and a lost soul who pops little white pills to stave off despair? (The pleasant Hopper turns in a sweet but somewhat glazed performance.) Or embittered Pauline, chilly as her father but far more pragmatic? (Add another prime specimen to Hallie Foote's gallery of wary, wiry spinsters.) As we wait two acts to find out, we follow the intervening picaresque of Farley, who's become romantically involved with a young neighbor (Adina Verson) of similar mental limitations. ("Someone like Farley has moved in across the street," laughs Henry. "Farley has found someone when you and I have never managed to find anyone!") Farley's story is the plot's backbone and a bit of poignant comic relief, but it intrudes a bit on the ghost story and serves mainly as a delaying mechanism. The best of Him arrives late and resolves quickly and spasmodically. This is a play about loneliness as a prison of one's own making, and perhaps as a result, it feels a little estranged from itself, not quite at home in its own skin. Much is made of a downstage chair where InvisiDad sat for years of his guarded, silent life, stewing, wanting to be off in his Walden. I stared at it for an hour and just couldn't see anyone sitting there. The operative element of Him is absence — that's what's bewitching about it and what's ever-so-slightly unsatisfying, too.       

Him is playing at 59E59 St. through October 28.