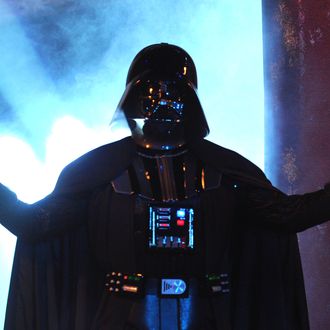 What????
Photo: Kevin Winter/2011 Getty Images
So, Disney bought Lucasfilm today. Significant! But here is the really, really crazy thing: In the release announcing the acquisition, buried in the sixth paragraph, comes this huge announcement: "[New Lucasfilm president Kathleen] Kennedy will serve as executive producer on new Star Wars feature films, with George Lucas serving as creative consultant. Star Wars Episode 7 is targeted for release in 2015, with more feature films expected to continue the Star Wars saga and grow the franchise well into the future."
Nope, it's not April Fool's Day. They're making a seventh Star Wars movie, y'all. And somehow, they kept it secret, and it's coming out in under three years. Craziness. Now, Lucas had teased the idea of Episodes 7, 8, and 9 a long, long time ago, but after the prequels came out, little was said about mounting yet another trilogy (and, in fact, it's unclear whether this new installment will kick off a new trilogy or follow the progeny of Han and Leia or what). But … yeah. Did Lucasfilm kickstart these new movies in attempt to goose their value before Disney bought the company? Who knows, but you're getting Star Wars Episode 7. Let that sink in.
UPDATE: In a new YouTube video, Lucas plays down his involvement with the new films: "I always said I wasn't going to do any more, and that's true: I'm not going to do any more. But that doesn't mean I'm unwilling to turn it over to Kathy to do more. I have story treatments of 7, 8, and 9, and a bunch of other movies."