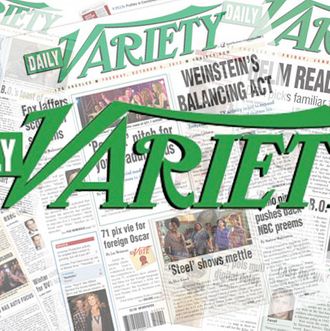 Photo: Courtesy of Variety
Today revealed the long-suspected announcement that Penske Media —  owner of Nikki Finke's Deadline, Movieline, and TV Line — has bought Variety, the once-definitive Hollywood trade. The mismanaged Variety has collapsed in on itself over the past six years, reportedly losing four fifths of its profits as it attempted to salvage itself by hiding much of its breaking news behind a paywall while competition for scoops popped up on free sites everywhere from Deadline to EW.com to The Wrap to, well, Vulture. As a former Variety reporter for eight years, I still root for the institution. However, at this point, after seeing it rendered nearly obsolete, bragging about my time there to a young blogger is like bragging that I once served on the Pony Express. So I have to wonder: Is trying to save Variety something that's possible, or should it be sent to the glue factory?
Here are the three stumbling blocks that Penske faces as he attempts to build Variety back into the boffo biz that it once was. (One final bit of self-disclosure: In 2006, my wife's former employer, Mediabistro, briefly explored buying Deadline before it was bought by Penske. This doesn't affect my theories on Variety, but good to be out in the open, right?)
Has the brand become too damaged? Variety is an institution, with a name as interchangeable with the concept of "Hollywood trade" as Kleenex is to tissue. Even a layman knows that it's historically been the showbiz bible. However, after years of mishandling and with industry folk feeling it has lost its mojo, has the paper become an anachronism in the era of online entertainment journalism? Once upon a time, laying claim to such olde Hollywood terms as "ankles," "oaters," and "boffo" made Variety seem like the definitive source of industry news: We invented this shit! But now, after years of ebbing relevancy, terms like that can now come off like Grampa Simpson reveling in the glory days of nineteen dickety-doo. It may be a familiar brand, but so is the Model T. As my old Variety film reporter colleague Dana Harris noted today on IndieWire, "boasting about creating showbiz lingo will only make you look old — language itself is an agent of change and never more so in the age of urbandictionary.com."
Can a print version survive? Penske told the L.A. Times that he hasn't decided whether to keep either or both of the print versions going, though he did say, "Do we want to reduce our dependency on print revenues? Yes." However, this is a damned-if-you-do-and-if-you-don't situation. The paper's revenue has plummeted in the past five years: In 2007 it brought in roughly $100 million; now it's half that. It's still the market leader of Hollywood trades, although in a very constricted market. For a large chunk of the year the ad columns of the pamphletlike daily edition are often filled with in-house touts for the company's own conferences. However, the newsroom largely survives because the print edition balloons with ads during awards seasons; a former Variety publishing exec tells me the For Your Consideration market is as strong as ever. "[An Oscar] statue can extend and help you in your DVD life and it can get you picked up if you're a TV show," says the exec, meaning that studios can still rationalize it as an important marketing investment. And print ads fetch much more than online ads.
However, while the FYC market stays strong, those profitable two-page "Congratulations!" ads (taken out by studios and agencies for high-grossing stars and directors) that trades used to depend on for the rest of the year's income have been gone for eleven years, and likely aren't coming back. Says the former Variety exec, "After 9/11, self-congratulation ads were suddenly déclassé. Once it shrank, and nothing bad happened — once people realized they could live without those congratulations ads, and nothing awful happened [to the studios' relationships with stars] — it was never going to come back." And it's not just the creative types who are shirking high-profile thanks, the exec adds. "One, in this economy, people really don't like hitting up their colleagues and your vendors for those kinds of ads. And two, they don't feel there's an upside to having such a high profile. It leaves you vulnerable to attack … Online, we refer to it in the comments section as 'death by peer' but it can happen via ads, too, just by word of mouth."
So it's a quandary for Penske: A print version makes sense in that even in the shrunken market, it will bring in more ad revenue than online ads. However, is that enough to offset the expense of what it takes to put out a print version? Much like after this tough box-office summer, studios should be wondering if it's worth it to constantly gamble more money on a possible bigger box-office bonanza (even though they often lose their investment), Penske needs to wonder whether it's worth it to pay more to keep a print version alive just because the right ad sales team might convince more people to advertise. Variety currently has 120 staffers, while Deadline is lean, with fewer than a dozen key players. Deadline has broken far more stories than Variety has, and has done it at an online pace that laps anything the print version of Variety could. So if Variety is to live on as a print publication, it needs to change its edict, going more for long form investigations and reports that aren't easily scooped by one phone call to Nikki. (And it's not like long-form print magazines are a get-rich-quick scheme these days.) But getting back to Nikki, this brings us to the last stumbling block.
Can Nikki Finke coexist with Variety? Penske said that she won't have a role with Variety. But even if they're corporate brethren, will she be able to tolerate the idea of another magazine going after the same stories her team is? The wildly competitive Nikki is not known for a "live and let live" philosophy. Everyone's one big happy Penske family … until Variety gets a story Nikki was tracking.