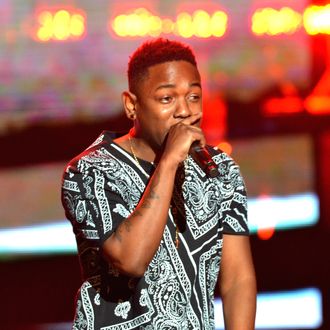 Photo: Rick Diamond/Getty Images
Pick the sentence that is more exciting to you: "Kendrick Lamar's album leaked," or "Taylor Swift's album leaked." Fake-out! It totally doesn't matter what you pick; they're both true. Below is a sampling, along with the latest from A$AP Rocky and his famous friends. (Kendrick Lamar included. Full circle!)
A$AP Rocky featuring Drake, 2 Chainz, and Kendrick Lamar - "Fuckin' Problem"
All the moderately trendy rappers got together and invited B-plus student Drake to play. Drake's pal 40 produces. 
Kendrick Lamar featuring Drake - "Poetic Justice"
And half the team is back together (with a sample from Janet Jackson's "Any Time, Any Place.") Lamar's good kid, m.A.A.D. city is out on Monday.
Taylor Swift - "22"
If you are not prepared to hear Taylor Swift twang the word hiiiipsters within ten seconds of pressing play, then go back to the rappers. But! This song has its poppy, arm-flailing charms, and it's one of the early standouts on Red. Also: Taylor's doing that sassy voice-over again! More of that please; it's hilarious.