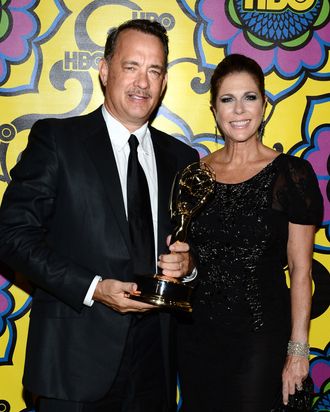 Actor Tom Hanks (L) and actress Rita Wilson arrive at HBO's Annual Emmy Awards Post Awards Reception at the Pacific Design Center on September 23, 2012 in West Hollywood, California.
Photo: Michael Buckner/Getty Images
America's Everyman Tom Hanks was on this week's "Nerdist" podcast to be charming and the best and talk about "the three fabulous reality TV shows" he watches as often as possible: "No. 1: Deadliest Catch. Now there is not a man in the world who doesn't feel like the biggest pussy on the planet when he watches Deadliest Catch … I adore Mythbusters because it's actual science and physics. And I must say the guilty pleasure I have is Storage Wars. Oh my God, I love Storage Wars." So, basically the same three shows as all of our dads.