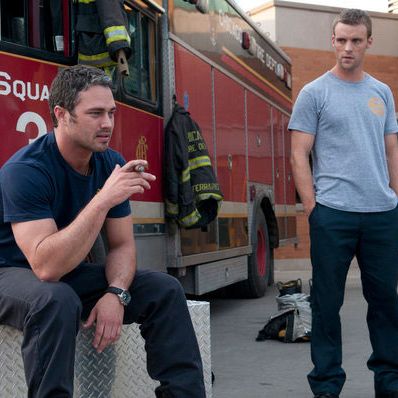 Photo: Matt Dinerstein/NBC
The producers of Chicago Fire, a drama about Windy City firefighters and paramedics, were smart to send out the show's second and third episodes in addition to the pilot, even though it puts critics in the uncomfortable position of telling readers, "The first episode is kinda blah, but stick with it."
Tonight's series premiere (NBC, Wednesdays, 10 p.m.) promises an earnest but unimaginative urban drama: Picture a less comic-bookish Backdraft or Rescue Me minus cynicism and perversity — which is to say, a network drama executive-produced by Dick Wolf (Law & Order). The pilot is blah; its main points of interest are fiery disasters and ridiculously attractive actors. (Seriously, just look at this photo.) But Chicago Fire gets better week-to-week, finding its own vibe, one that mixes TV-14 gore, soap opera entanglements, and working-class-hero earnestness. Sincerity puts the whole thing over. 
The pilot opens with a horrendous, preventable firefighter death. This is a tactical mistake because at that point, we barely know the characters' names. When the story flashes forward a month to show Chicago Firehouse 51 wracked by guilt and grief and riven by internal conflict, we're still not oriented, so it's hard to feel their pain. Matthew Casey (Jesse Spencer) is the center of this ensemble drama — a good lieutenant who blames himself for his friend's death. He's separated from his wife, Hallie (Teri Reeves), a hospital resident, but still loves her and wants the relationship to work. He often locks horns with his colleague Kelly Severide (Taylor Kinney, a.k.a. Lady Gaga's boyfriend), a sad-eyed, drug-addicted daredevil lieutenant on the rescue squad, and he's got a secret crush on a paramedic named Gabriela Dawson (Monica Raymund), who would happily reciprocate if Matthew weren't "taken." Gabriela's partner Leslie Shay (Lauren German) is a skinny, blonde lipstick lesbian who has been asked out by every guy in the firehouse; she shares an apartment with the tragic hunk Kelly, a scenario that could be spun off into a soft-core show on Cinemax. Charlie Barnett plays wannabe firefighter Peter Mills, a wide-eyed audience surrogate who should have been introduced falling off the back of a turnip truck. 
Oz's Eamonn Walker (as Chief Wallace Boden) and Sex and the City's David Eigenberg (as veteran firefighter Christopher Herrmann) act the hell out of second-banana roles. Walker leads with ox-yoke shoulders; Eigenberg's Bowery Boy voice fits oddly with his Mercury astronaut face and sinewy torso, but the overall effect is immensely likable. If Chicago Fire lasts until mid-season, I hope both men get more scenes, or better scenes. With few exceptions, the main actors are a shade flat, more fun to gawk at than listen to, but in time, they grow on you. Spencer's Boy Scout intensity is just right for Matthew, and I predict big things for Kinney. He's a natural-born matinee idol, and his character is to Chicago Fire as George Clooney's Doug Ross was to ER — a bruised beefcake man-child, irresistible even to women who should know better. Series creators Derek Haas and Michael Brandt aren't shy about having him play scenes in a tight T-shirt, or no shirt. The first three episodes boast many moments set in locker rooms, as well as scenes where two characters talk while one just happens to be dressing or undressing. Kelly: "Hey, chief, got a minute?" Chief: [Buttoning shirt over massive chest.] "Sure, come on in."
I'm making the show sound dumber than it plays. Chicago Fire takes itself seriously, but not too seriously, and because it has a good heart, it's easy to like. The third episode, which brings Matthew into conflict with a corrupt cop, is unnerving in a good way. And the last scene in the second episode, which features former Walking Dead co-star Jeffrey DeMunn as an accident victim accepting the possibility of death, moved me to tears, even though I've seen a zillion variations of that scenario and never imagined I'd get invested in another. Chicago Fire carries itself as if it's the first comfort-food urban drama in TV history — as if its clichés are mint-in-the-box new. That's not a bad strategy; worse shows have run forever on less.