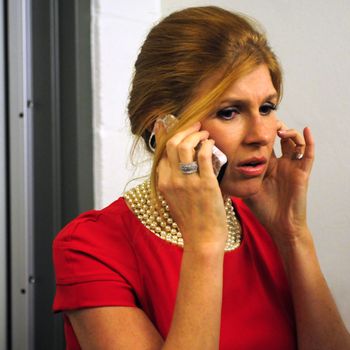 Photo: Katherine Bomboy-Thornton/ABC
It's a pleasure to watch a show that knows what it wants to be and has the chops to pull it off. Nashville (ABC, Wednesdays, 10 p.m.) is a nighttime soap, just melodramatic enough to hook you into caring about what happens next and just smart enough to make you think these characters could exist in reality.
Oscar-winning Thelma & Louise screenwriter Callie Khouri created Nashville; nonfiction filmmaker R.J. Cutler (The September Issue) is an executive producer and directed the pilot episode. The show is built around the rivalry between Rayna James (Connie Britton), a country-western-music queen whose powers are ebbing, and Juliette Barnes (Hayden Panettiere), a popular and incredibly aggressive young rival. There are plenty of scenes dealing with Rayna's distress over her declining career (her new album isn't selling, and the record label that her early success helped build wants her to share a tour with Juliette as a "co-headliner," a sad euphemism for "opening act"). Juliette, meanwhile, has a musical/romantic crush on Rayna's bandleader and longtime co-writer, Deacon Claybourne (Charles Esten); she correctly deduces that he feels underappreciated and tries to lure him away to work with her, wriggling and batting her eyelashes.
But while Nashville doesn't stint on musical performances or backstage intrigue, it extends its interest beyond music. Rayna's dad, Lamar Wyatt (Powers Boothe, domineeringly intense as always), is the show's resident J.R. Ewing type, a power broker with a finger in every political pie. He pretty much ran the town back in the seventies and eighties, but while he's still strong, he's not the biggest bear in the woods anymore, and this clearly bothers him. He's backing veteran councilman Coleman Carlisle (The Wire's Robert Wisdom) for mayor, but he has a change of heart when he figures out that Carlisle might not support him on a lavish new construction project, so he tries to draft Rayna's husband, Teddy Conrad (Eric Close), a businessman and recovering alcoholic, to enter the race as an "alternative" (read: Lamar's puppet). Teddy is intrigued because he's been out of the spotlight for years; he's a loving husband but also a wounded alpha male who's tired of being Mr. Rayna James.
Nashville is set in heart of the nation's country-western-music scene, but it isn't a musical series like Glee or even a music-obsessed one like NBC's Smash; making music is just a job that certain characters do. The show is equally interested in showbiz's cousin, politics, and the corrosive effect that both pursuits have on people's private lives. It has a country-music-like rueful affection for its dissatisfied, striving characters. Not a one of its people is entirely happy with where they are and who they're with. The major characters all want something better or bigger or different, and as they chase their own goals, they keep one eye on their rivals, outwardly wishing them health and success while secretly hoping they'll fall on their faces. (As Waylon Jennings sang, "See you around on your way down.")
And not one of them is wholly likeable or unlikable. At first, Juliette reads as an acquisitive bitch, a starlet who doesn't deserve her wealth and fame (there's a funny recording studio scene revealing that her vocals are heavily Auto-Tune dependent). But once you realize that her actions come from loneliness (her mother is a drug addict who constantly calls to ask for money) and fear of failure — and that her rivalry can only sharpen up the complacent Rayna — it's hard to hate her. Even Lamar seems like more than a cartoon scumbag. Since Deadwood, Powers Boothe has been perfecting an angry Lion in Winter energy, and he unleashes it here. Lamar fumes and snarls, but there's terror in his eyes — terror at the prospect of aging into irrelevance, with only his money to keep him company.
The end product often feels like a more measured, earthbound Dallas (reboot or original, take your pick), but with music. There are also times when the show also reminded me a bit of Treme. Which isn't to say it's as off-puttingly rigorous as David Simon's HBO drama or as politically aggressive or as good, frankly — just that it's an unabashedly city-centric show that looks at its world through a wider lens and treats music as a part of (and incidental expression of) daily life. From the pilot alone, it's tough to get a read on where Nashville could go, but I hope it never loses its serious-yet-relaxed vibe. After I watched the first hour, I didn't feel as if I'd seen a new series but instead one that had been around for years and that I'd just now discovered. It feels lived-in, confident. That's a good sign.