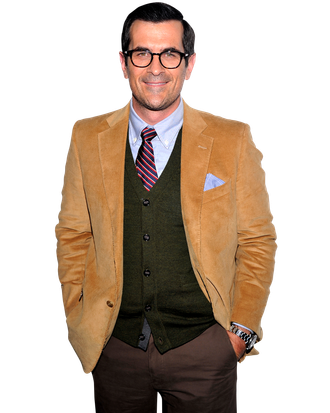 Ty Burrell.
Photo: Stephen Lovekin/Getty Images
Ty Burrell is best known as the over-eager dad Phil Dunphy on Modern Family, but in the new comedy Butter, he's the passive, introverted Bob Pickler, Iowa's long-reigning champion of butter-carving contests (and yes, there is such a thing), who's been asked to put down his blade and give someone else a chance to win this year. (His wife, played by Jennifer Garner, is overly determined to be that person, and her campaign to beat the better butter competitor turns the film into a political satire.) Burrell chatted with Vulture about learning to carve, working with Jennifers, and Nikki Finke.
You first met your co-star Jennifer Garner when you shot your wedding photos together?
For our fake wedding! Exactly. We met at our wedding. Doesn't that happen sometimes in India? Basically, unless you meet somebody at lunch, which never happens, most of the time you meet your co-workers in a scene, and it's usually weird. The first time I met Nicole Kidman, when I was playing her husband in Fur, it was for a rehearsal at our director's house, and one of the scenes we had to rehearse was our sex scene together. I had barely met her, and she was a superstar, so I was so terrified and so nervous, but that's the job. I was intimidated to meet Jennifer, too, but she was not intimidating. She was so disarming and so kind, and by her own admission, she's sort of the girl next door. She takes any worry you might have and dispenses with it. And Julie Bowen, I met her at our first table read on the Fox lot. That's a little more normal — you're not throwing yourself into the fire — and she was lovely, as usual. And ridiculously pregnant.
So did you have to take a class to learn to carve butter? It looks tricky …
We got a day with Jim Victor, who is the foremost food sculptor. I don't know how the hell they rate that! And it's supposed to be refrigerated to sculpt, but we got an unrefrigerated ballroom to use, so we only had a two-hour window before all the butter was only good for toast. We worked very fast and very poorly. I was trying to carve an image of my hand, and it was so bad that as it was melting, it started to look like an oven mitt. So Jim came over and just urged me to never do it again. [Laughs.] "Never do butter carving again. Just please stay out of my line of work." He crushed my butter-carving dreams.
If your dreams weren't crushed and you were carving to make an artistic statement, what would you attempt?
An empty sphere, which would represent my brain.
Your brain's not empty!
It's pretty empty. So it would be an empty sphere, with, like, a little pea at the bottom of it, which you could roll around.
You probably have whole sections of your brain devoted to fun facts from different projects, such as your upcoming Jackie Brown prequel.
That's why I'm such a mess! [Laughs.] I am really excited to do The Switch. We'd had scheduling issues, because it's such a big cast.
Including Jennifer Aniston.
I've got a Jennifer theme going, don't I? So for the next project, I'm going to be going, Okay, what Jennifer would be good for this? We've got to find a Jennifer that's good for this part. Jennifer Lopez? Jennifer Ehle? I've got some options. None of these women will want to work with me, because of my tiny brain, unless the other Jennifers and Julies step forward. Ask them how I treat the J-names. Julie [Bowen] would approve that message.
Did you see what Nikki Finke wrote in response to Julie's Emmy win? That beautiful women can't be funny?
Is she saying Julie isn't funny? I don't believe that to be true. I would guess that Nikki Finke's premise is that there haven't been enough obstacles in her life to be funny. I think Kristen Wiig would have something to say about that. She's beautiful and probably the funniest person walking around.
Did you get to meet any of your idols at the Emmys?
Sarah Paulson. Lily Rabe, who is a great young actor, and my first exciting theater experience was doing a play of her dad's, Corners, which became The Dog Problem. You just end up in these conversations where you're saying to yourself, Oh, wow! I'm having a conversation with this person who I really, really look up to. Like Joel McHale, who is 75 feet tall, so you're literally looking up to him. This wasn't at the Emmys, but I met Louie C.K. at the Comedy Awards, which is a particularly intimidating place to be when you're not a comedian. I mean, I'm a person who does comedy, but I'm not a comedian in the strict sense, in terms of people who create their own material. I'm in such awe of people who do.
Would you want to guest on Louie or any other show?
I love Louie. And I have a really good friend, Rich Sommer, on Mad Men, so I would want to guest on Mad Men. I would have to work really hard to be as stylish as those people!
Matthew Broderick is about to guest on Modern Family …
Yeah! I am a huge fan of his, so I'm very excited about doing that with him. We go on an accidental gay date.   
Maybe you could go on an accidental gay date together to prep.
That would be intentional. [Laughs.] We could do a theater matinee and brunch!