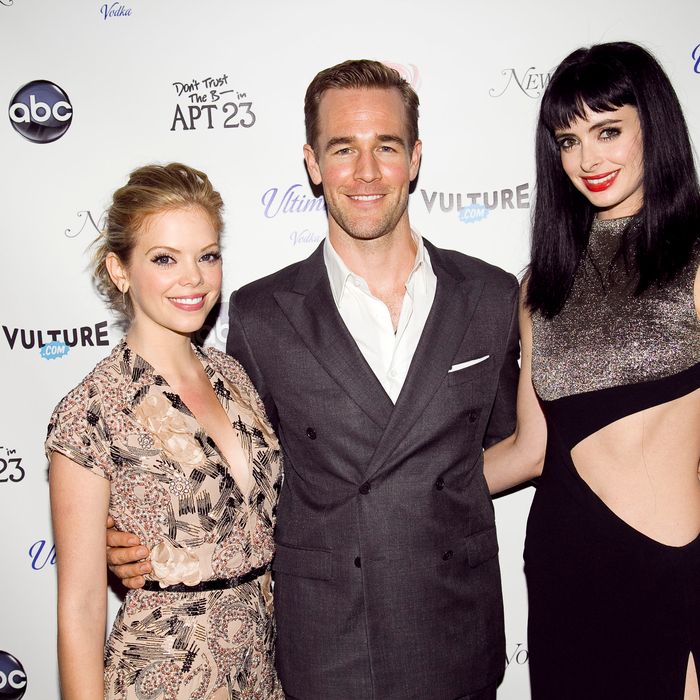 Dreama Walker, The Beek, and Krysten Ritter.
Photo: Dustin Wayne Harris/Patrick McMullan
Last night, Vulture hosted a party for ABC's Don't Trust the B—- in Apartment 23, which premieres its second season tonight at 9:30 ET. The show stars Krysten Ritter as a super-bitch; Dreama Walker as her sweet, tag-along roommate; and James Van Der Beek as their friend, a narcissistic version of James Van Der Beek. And, guess what? The whole cast was there at our party at Toro Lounge at the Smyth hotel, mingling with many celebrants and us bloggers, who dared to step away from the comfort of our computers and show our faces in public. Here is photographic evidence that our fearless — and disturbingly tall — leader, Josh Wolk, actually stood next to Krysten Ritter, with her permission.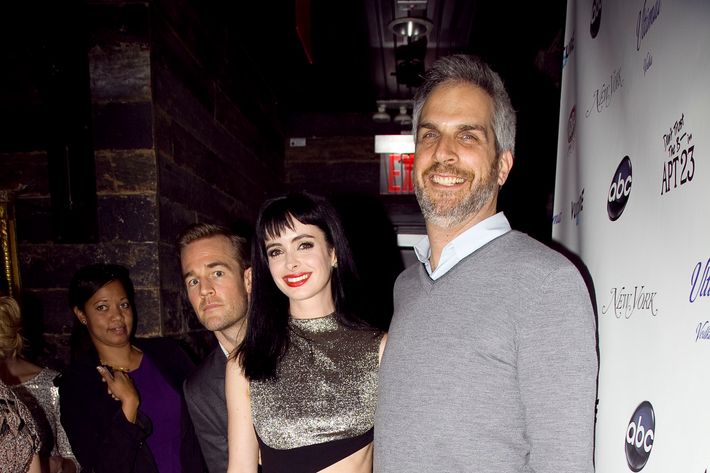 The other highlight of the night was when a 29-year-old Vulture editor — who shall remain nameless — got her giant, 95-pound Dawson's Creek box set signed by The Beek himself. (He was very gracious about it, though his message, "All the best," is not what you say to a woman who feels like she's known you all her life. Would it have been so hard to sign it, "You get me in a way that no one else ever will"?) We were also surprised to learn that Ritter, admittedly not a Creeker at the start of Apartment 23, still hasn't watched the seminal series. It would have come in handy in tonight's show, when there are a lot of Creek jokes; the premiere is about Fake James trying stage a DC reunion. But we quickly forgave Krysten her nostalgic blindspot when she explained that — what could she say? — she was more a Jordan Catalano kind of girl. "I was obsessed with Jared Leto during my formative years," she confessed. Right answer, Krysten. And thanks for drinking with us.