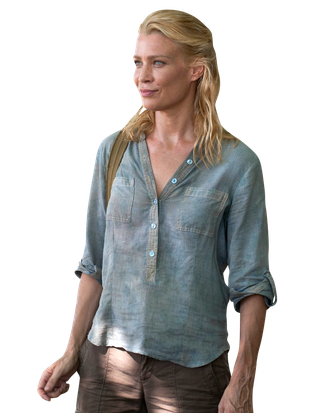 Laurie Holden got her break working for filmmaker Frank Darabont on movies like The Majestic and The Mist before he cast her as Andrea on The Walking Dead. When he abruptly left the AMC zombie drama last season — his ousting was well-documented — Darabont's longtime collaborators appeared to also want out. (Both Jeffrey DeMunn and Jon Bernthal, whose characters Dale and Shane were written off, are now regulars on Darabont's new TNT drama, L.A. Noir, which is still in contention for a series pickup, according to the network.) As for Holden, she plans on sticking around as long as she can avoid the walkers. With season three having premiered last night, Vulture spoke with the actress about Andrea's chances for survival — she said production is in the middle of shooting episode thirteen of sixteen, so there's that — and her new katana-wielding, zombie-slaying bestie, Michonne.
When Dale and Shane were both killed off the show, was there any part of you that was worried?
Well, we all have a shelf life. But no, I'm not worried about that because that would have already happened. It would have happened a year ago. Executive producer Glen Mazzara has a wonderful open door policy- and there's a lot of collaboration between the writers and actors, you know. Those were big shoes for him to fill and I think he's done it beautifully. For all the criticism we got last year, we had record ratings. We made cable history. I do have to say that in the first two episodes, I think we killed more zombies than we did in seasons one and two combined.
So you want to stay?
Andrea lives a long life in the comic books, and I hope to live a long life in the series.
What was it like on set in the beginning of this season without Jon and Jeffrey there?
It's been very challenging and difficult, because they were my rocks. They were both mentors [to Andrea] in different ways. Dale made her a better person, forced her to grow up. God, I miss Jeffrey every day. And I had the time of my life with Jon, and not just doing the fun, sexy stuff but also doing all those scenes with him teaching her to shoot and giving her a hard time. It was very strange to come back this season and not have them there, because they're not only dear friends of mine, but they were Andrea's world. I'm working with all new people now.
Several months appear to have passed when the third season picks up. What have Andrea and Michonne been up to?
We are opening up the season with a very tight friendship. Andrea is deathly ill and Michonne's taking care of her. They've been through a lot together and there's a real intimacy between them. I love that they put these two characters together. They're both very alpha female. It's very Thelma & Louise.
Having been left behind by Rick and the group, is it safe to assume you two will be on your own for a while?
I'm, like, on a spinoff in so many ways. Fortunately, they picked the perfect Michonne, and Danai Gurira is a blessing. She's really become my best friend. We do everything together. We go to church, we go out as gals.
When we met up with Danai at Comic-Con, she was pushing cherry pills on us as an incredible source of energy. Have you tried them?
I haven't. But she should do commercials for them! Seriously. Organic cherries. They should send them to her for free.
Andrea and Michonne eventually visit a place called Woodbury, and it seems way better than Hershel's farm.
Oh yeah, it's a salvation. It's the closest thing to the old world that one could ever even possibly comprehend. You're allowed to breathe and hope and dream, and it's the last thing in the world Andrea ever thought existed, so she clutches onto it with everything she's got because it's like a chance for a new start.
I haven't read the comics, but of course there's a catch.
You know the expression, If it's too good to be true …
They do have showers, though.
I was grateful for that part for about a day, and then I have to say, I really missed the dirt. We call it sexy dirt. It's manufactured. We're like little kids rolling around in it. Especially Norman Reedus, who loves it more than anybody, and Michael Rooker, who plays his brother. He dives into that dirt. We have to restrain him.