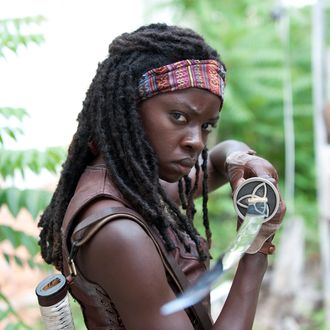 Danai Gurira as Michonne, writing her plays with a sword.
Photo: Gene Page/AMC
Last night, Danai Gurira, the actress who plays Michonne on The Walking Dead, was one of the ten writers presented the Whiting Writers' Award. Apparently, in her case, the pen is as mighty as the sword. Also, this is no award to sneeze at. (Also, don't sneeze at awards — it's gross.) Past recipients include Jonathan Franzen, David Foster Wallace, Jeffrey Eugenides, Justin Cronin … and you get the idea. It appears that beyond being adept at removing jaws, Gurira is an accomplished playwright. She previously won an Obie Award and an Outer Critics Circle Award for co-writing the play In the Continuum. Whiting winners are awarded $50,000. Hopefully she got it all in singles because, in a postapocalyptic world, at least she could use the cash to start a fire.