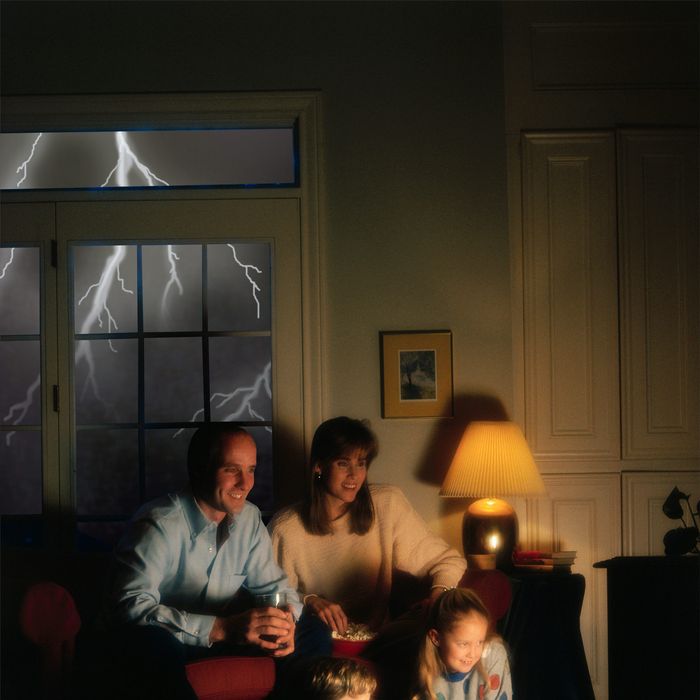 5579
Photo: Steve Chenn/Corbis
As Hurricane Sandy builds strength, all of us in its path need a distraction, something else to stare at other than out our windows, nervously. Thank goodness for streaming video! Team Vulture has worked together to bring you our suggestions for ideal Sandy viewing. The criteria were simple: The movies and TV shows need to be engrossing (so you forget what else is going on outside), often light (so you don't turn it off in an edgy mood), and not at all apocalyptic (if you are catching up on The Walking Dead and wondering why it feels even more like the End of Times out there, you only have yourself to blame). In short, they're likely what Vulture's New York staffers will turn to for comfort when we stop blogging tonight. Here are the editorial staff's picks for the best streamable entertainment for a hurricane kinda day — they're bound to make you forget what's going on outside. (Unless your power goes out. But hey, let's not dwell on that! Remember: keeping it light! Light!) Weigh in with your own suggestions in the comments.
Margaret Lyons
Scandal I watched all thirteen episodes of this show in two days. It's not good per se, but it is fluffy and enjoyable enough. Kerry Washington stars as a D.C. "fixer" of sorts, but the show's basically a crime procedural with a political slant (the president is one of the characters) and Grey's Anatomy dialogue. (Season one: Netflix; season two: Hulu, ABC.com)

Justified Is it true that there are people who are not watching Justified? That is sad. You should watch Justified! It manages to be a solid southern Gothic drama, an intriguing organized-crime serial, and an often very funny cop show. (Amazon, iTunes)

Call the Midwife Lots of period dramas operate with an undercurrent of tragedy: Mad Men, Deadwood, and even Downton Abbey are situated in a certain amount of sadness. Not Call the Midwife! The show is incredibly optimistic, is filled with determined if challenged characters, and has so much British can-do attitude that you'll want to quit your boring life, get a bicycle, and learn about breech births. (Six episodes: Amazon, iTunes)

Circus This six-part documentary series about the Big Apple Circus covers the roadies who erect the tent, the clowns and acrobats who populate it, and the front-office folk who keep the organization afloat. If every workplace documentary series were like this, the term "reality TV" would be a compliment. (PBS.com)

Workaholics Sometimes you just need a little bit of immature dude humor. Workaholics is pretty much all immature dude humor! Think The League, but younger and somehow less realistic. (Season one: Netflix; seasons two and three: Amazon)
Josh Wolk
The Godfather, Parts I and II I once was talking to a friend who was going to be recuperating from surgery and was looking for something to watch during bed rest. In going through suggestions, I discovered she had not seen the Godfather movies, and I was insanely jealous that she was now going to get to experience them for the first time. Would I trade Godfather amnesia for a trip to the operating room? Probably not, considering that getting immersed in the saga is just as rewarding on repeat viewing, and a great way to look up and realize that many, many hours have gone by and you didn't notice. (Amazon, iTunes)
A 1988 Film Festival Back in June, Vulture declared 1988 the best movie summer. Watched back to back, its films will provide a movie for every mood, all of them good: Die Hard, Who Framed Roger Rabbit, Big, Midnight Run (all Amazon, iTunes), Coming to America, A Fish Called Wanda (both Netflix), Bull Durham (Vudu). Also The Last Temptation of Christ (Amazon), though we can't promise that won't lead to thoughts of repentance.
Taxi Not available on the major streaming sites, the sitcom Taxi tends to get short shrift (no Danny DeVito pun intended) in the legacy department. But it should not be forgotten: Like Cheers, it's a one-set gem with an ideal ensemble that only gelled better with every passing season, especially as Latka (Andy Kaufman) and Reverend Jim (Christopher Lloyd) really came into their own. (Xfinity)
Scott Brown, Theater Critic

Star Trek: The Next Generation Weirdly, anything set in space or underwater has a calming effect on me. Vintage TNG  — basically, a flying Marriott cutting smoothly through the low-anxiety nineties — is especially lull-inducing. 
Big, American Desert Epics Like Giant — nice and arid. (Well, there's a big gulf storm at the end, but it's brief.) Maybe this is a good time to see if Lonesome Dove still holds up? Or Casino, maybe? Basically, try something broad, vast, and dry and with lots of characters: Your life has become wet and confined, with a list of characters that's probably been winnowed down to you and maybe one or two other people. Counteract that. (Giant, Lonesome Dove: Netflix, Amazon, iTunes; Casino: Amazon, iTunes)
Denise Martin
Key & Peele The debates are over, the election is days away, and there is nothing that will make Democrats feel better about the president's chances for a second term than Obama's Anger Translator. Luther to Mitt: "I sunk your battleship, bitch." (Past episodes: Hulu Plus)
Hocus Pocus Get swept up in Omri Katz nostalgia, rediscover the origin of "yabos," cry again for poor Thackery Binx, marvel at Sarah Jessica Parker's cleavage as it has never been since, and chant it with us: Amuck! Amuck! Amuck! (Amazon, iTunes)
House Hunters: Renovation Should Hurricane Sandy inflict damage, the show's lesson is an important one: Renovations only begin as worrisome and costly, but they always end up great and better than you thought. (Airs constantly on HGTV; you can't miss it.)
Patti Greco
Freaks and Geeks The show lasted just eighteen episodes, so provided your power holds out for another sixteen hours, you can plow through the entire series in one sitting. The question: Did you buy enough pot for that? (Netflix)

Kissing Jessica Stein If only Jennifer Westfeldt and Jon Hamm were throwing a Frankenstorm party and we were all invited. Enjoy that little reverie while watching this indie rom-com, which Westfeldt co-wrote and stars in, with your non-famous friends. (We're sure they're great.) (Netflix)

Parenthood [the movie] Everyone is struggling, nobody's perfect, but family is forever — what a nice message on a day like today. Now, please, go return your frantic [mom/dad/grandmother/brother]'s call, before the power goes out. (Amazon, iTunes)
Kyle Buchanan
Boogie Nights It's the fifteenth anniversary of this Paul Thomas Anderson–directed classic, and the movie is still a blast: Two and a half hours never flew by so fast. And while stars Mark Wahlberg and John C. Reilly have held up well since, if you go back and look at how young they were in this movie, they practically resemble Muppet Babies. (Julianne Moore, however, is ageless.) (Amazon, iTunes)

Step Up 3 You need a guilty pleasure to brighten up your battened hatches, and what better than this surprisingly enjoyable installment of the surprisingly venerable Step Up franchise? It has everything you need to survive: Harry Shum Jr., Moose, and a fun musical number where everyone dances in a flooding warehouse. Practice your (wet) dance moves! (Amazon, iTunes)
Claude Brodesser-Akner
The Philadelphia Story Before it was inducted into the National Film Registry, and before it lead to one of the best Oscar acceptance speeches ever ("I have no one to thank but myself!" said screenwriter David Ogden Stewart — who probably should have thanked the uncredited Waldo Salt), The Philadelphia Story had quite a strike against it: The Hollywood Production Code forbade the depiction of extra-marital affairs onscreen, which is why we see Katherine Hepburn and Cary Grant divorce*, toy with others, and then remarry — but even knowing this going in does nothing to lessen the 112 minutes of pleasure that makes up their flirtation. (Amazon, iTunes)
It Happened One Night Before there was Stephen, the only Colbert you needed to know in comedy was Claudette. Here, she does her best to detest a rake of a reporter in Clark Gable, but fails. One of the last "pre-code" screwball comedies, it infamously features Gable nightshirtless, leading to a fabled nationwide decrease in pajama-top purchases. It would not be topped in other ways, too: Later that year, it won Best Picture, Best Director for Frank Capra, and Best Actor and Actress for Gable and Colbert. Best $2.99 you'll spend today — unless you're buying AA batteries. (Amazon, iTunes)
Abbott and Costello Meet the Invisible Man I remember being 5 or 6 years old and watching a boxing match between Lou Costello and a pro fighter (in which Lou is assisted by the Invisible Man, a former prizefighter himself) and it causing me to fire Yoo-hoo chocolate action drink out of my nose so forcefully, I feared I'd ruptured an eardrum. Now, you can, too. (Yoo-hoo chocolate action drink not included in $2.99 rental fee.) (Amazon, iTunes)
Eliot Glazer
Airline A to-the-point reality show from the early 2000s (still in random rotation on Lifetime Real Women) that provides a surprisingly visceral experience for anyone who's ever had a terrible experience flying. And what better to watch from the comfort of your home than a reminder of why your couch is awesome? (Lifetime Real Women at 8, 8:30, and 11 p.m.)

The First Wives Club Enough time has passed for this nineties comedy to be considered a classic. Come for the laughs, stay for the pantsuits. (Amazon, iTunes, Netflix)

Battlestar Galactica You have the time, and you still have an Internet connection. Stream the best sci-fi-show-meets-blistering-political-commentary-of-the-Bush-dynasty in history! (Amazon, iTunes, Hulu Plus, Netflix)
Josef Adalian
The Love Boat Set a course for adventure and get your mind off Sandy with Aaron Spelling's camp-tacular seventies ABC anthology masterpiece. CBS.com is currently streaming more than a dozen hours of the show, including episodes featuring appearances by Scott Baio, John Ritter, Sherman Helmsley, Leslie Nielsen, Scatman Crothers, Pearl Bailey, Pat Morita, Gary Burghoff (Radar!), Bob Crane, a young Kathy Bates … and "Hurricane" Sandy Duncan! (CBS.com)
Quantum Leap Need some family-friendly programming that the kids will enjoy but won't drive you crazy? Check out Men of a Certain Age star Scott Bakula's previous career highlight, in which he plays a reluctant time traveller sent jumping through history in an attempt to make things right. Two full seasons are on the Peacock's website right now, including an episode in which Bakula's Sam leaps into the body of a 1961 female secretary and discovers the evils of sexism. Now we know where Matt Weiner really got the idea for Mad Men! (NBC.com)
SeanMc31706's TV Museum on YouTube Don't want to commit to a series marathon or even a two-hour movie? No prob: You can spend 30 seconds (or eight hours) diving deep into a rabbit hole of wonderfully obscure promos (all-new Little House, coming up next!) and ads (a 1979 commercial for Sprite) from the seventies, eighties, and nineties on this YouTube channel curated by someone who's obviously been spending lots of time preserving and uploading hours upon hours of VCR'd footage.
* This post originally mixed up Jimmy Stewart and Cary Grant's characters. We blame Sandy for this lapse.