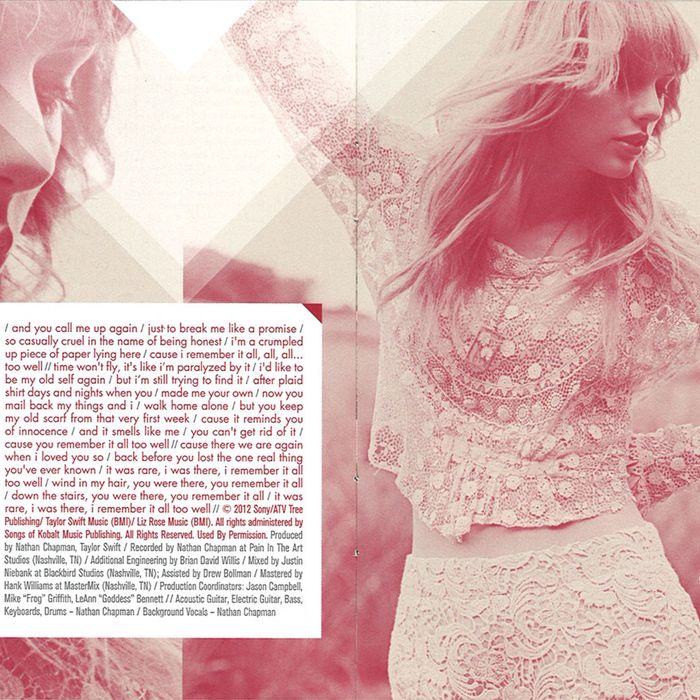 Happy Taylor Swift Release Day! Have you already spent hours hunched over Red's liner notes in an attempt to decode the messages hidden therein via Swift's patented code: capital letters sprinkled throughout the lyrics of each song that spell out a clue? You are not alone in this guessing game. So, as is tradition whenever Swift drops a new album, Vulture now presents our best guesses as to who, exactly, Taylor Swift is singing about on each and every one of her new songs. If your name is Jake Gyllenhaal, you might just want to close the tab right now.
1. "State of Grace"
Hidden Message: LOVE DOESN'T COUNT AFTER GOOD-BYE
One of the main characters on Red is an ex-boyfriend who just would not leave poor Taylor Swift alone (he'll pop up again on "All Too Well," "I Almost Do," and, of course, "We Are Never Ever Getting Back Together"). Now, several of Taylor's ex-boyfriends could be drunk-texting her at all hours of the night proclaiming their undying love, but it is more fun to assume that she's talking about the same guy. And that guy, according to the code and the lyrics "twin fire signs and four blue eyes," would be Jake Gyllenhaal. Jake's birthday? December 19. Taylor's birthday? December 13. That makes them both Sagittariuses, which is, of course, one of the three fire signs (read your Susan Miller.) Please remember this fact, because it will be important when we get to …

2. "Red"
Hidden Message: SAG
Could SAG stand for "Sagittarius?" Why, yes! Other possible interpretations: Screen Actor's Guild, to which Jake Gyllenhaal definitely belongs; Sag Harbor, which seems like a place you would see Jake Gyllenhaal (John Mayer is more East Hamptons material); or "SAG" like sag wagon, which is apparently a cycling term and is therefore surely related to these photos of Jake Gyllenhaal in bike shorts. Anyway, it's Jake.

3. "Treacherous"
Hidden Message: WON'T STOP UNTIL IT'S OVER
Not to spoil the later songs, but Conor Kennedy definitely gets a mention — and so we will assume that the lyrics "I will follow you home" are about how Taylor Swift literally followed Conor to his family's Hyannis Port compound and then bought a home there. Also, "this slope is treacherous" could be about the beach path; Cape Cod is a little rocky.
4. "I Knew You Were Trouble"
Hidden Message: WHEN YOU SAW ME DANCING
Yeah, we have no idea who Taylor Swift goes clubbing (or wub-wubbing) with, so Vulture chooses to believe that the aforementioned dancing happened after Swift's single reported date with One Direction heartthrob and noted womanizer Harry Styles. Then he went to Australia and made out with another girl, thus fulfilling the "you never loved me or her or anyone" portion of the lyrics.  

5. "All Too Well"
Hidden Message: MAPLE LATTES
As Vulture's Kyle Buchanan points out, "Taylor Swift and Jake Gyllenhaal Share Thanksgiving Maple Lattes" is the third result when you Google "maple lattes." (The song is also just brutally specific, with references to hanging out at Maggie's house and plaid days and the trip upstate when they went apple-picking. Advantage Swift.)
6. "22"
Hidden Message: ASHLEY DIANNA CLAIRE SELENA
GREENE AGRON CALLAWAY GOMEZ. Friendship!
7. "I Almost Do"
Hidden Message: WROTE THIS INSTEAD OF CALLING
"Each time you reach out, there's no reply." Smart money's on Gyllenhaal.

8. "We Are Never Ever Getting Back Together"
Hidden Message: WHEN I STOPPED CARING WHAT YOU THOUGHT
This makes a nice before/after with "I Almost Do," so: Jake Gyllenhaal, you are officially the indie music snob.

9.  "Stay Stay Stay"
Hidden Message: DAYDREAMING ABOUT REAL LOVE
This song is about a happy relationship, so it's either Conor, or — based on the code — an imaginary boyfriend whom we will choose to believe is Ryan Gosling.  Since paparazzi have not successfully snapped Conor Kennedy "carrying groceries," Vulture's gonna go with Ryan Gosling. (Related: The lyrics "Before you, I only dated self-indulgent takers/ who took all of their problems out on me. But you carry my groceries, and now I'm always laughing" are just the Taylor Swift–iest lyrics of all time.)

10. "The Last Time"
Hidden Message: L.A. ON YOUR BREAK
Who takes breaks? Actors take breaks from movies (Gyllenhaal, Taylor Lautner); musicians take breaks from tours or recording (Mayer); high-schoolers take breaks from Deerfield. But since L.A. does not really seem like a Kennedy vacation spot, this one goes in the Gyllenhaal column because of the protracted breakup references.

11. "Holy Ground"
Hidden Message: WHEN YOU CAME TO THE SHOW IN S.D.
Old-school ex Joe Jonas was spotted at Taylor Swift concerts in L.A. and San Jose, California. Is it then possible that he also attended a show in San Diego? Yes. More important: Is it possible that Taylor Swift could resist the opportunity to sing about her ex-boyfriend making a grand gesture? No.

12. "Sad Beautiful Tragic"
Hidden Message: WHILE YOU WERE ON A TRAIN
John Mayer seems like the kind of guy who would find it more romantic to travel by train, right? Also: John Mayer toured with Train — the band — in 2010. And "we both wake in lonely beds, and different cities" certainly sounds like a description of touring musicians. We're giving it to Mayer. UPDATE: Commenter JJGrey informs us that Gyllenhaal "joined Mumford and Sons and Old Crow Medicine Show on their Railroad Revival Tour, literally on a train."  We were wrong, and we apologize for not being up on our Mumford trivia.

13. "The Lucky One"
Hidden Message: WOULDN'T YOU LIKE TO KNOW
Yes, we would like to know if and when the Joni Mitchell biopic is happening. (We are already pretty sure the song is about her.)

14. "Everything Has Changed"
Hidden Message: HYIANNIS PORT
This is a no-brainer — it's Conor Kennedy! — but please look closely at the lyric sheet below. Following the caps-lock code, it would appear that she misspelled Hyannis Port? Or maybe that is how the homeowners spell it?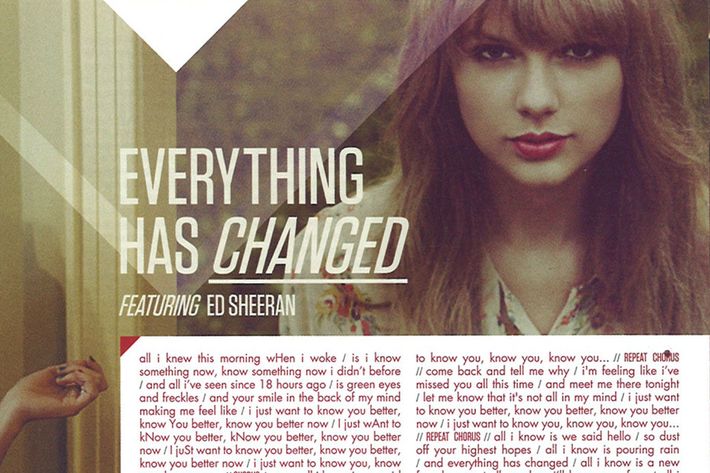 15. "Starlight"
Hidden Message: FOR ETHEL
In case you were not already aware that Taylor Swift and Ethel Kennedy are best friends. Why doesn't this song mention "dragging"?

16. "Begin Again"
Hidden Message: I WEAR HEELS NOW
Just check the height on these maple latte photos — only a dude who just barely meets Taylor's height would object to her wearing heels. Jake Gyllenhaal, who knew you were so cruel?