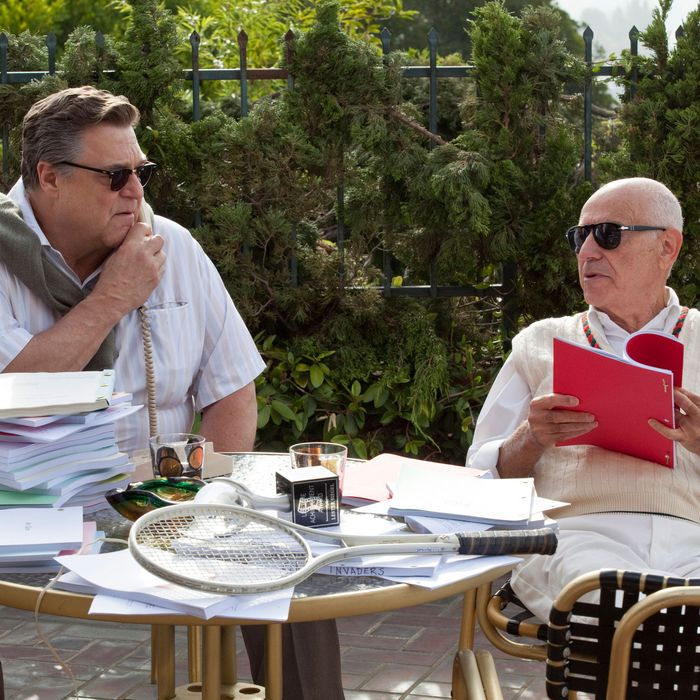 Photo: Claire Folger/Warner Bros
Among the many delights of Argo — the stranger-than-fiction story! the Ben Affleck comeback! the beard! — is the film's rock-solid ensemble cast. It's essentially an "Oh, that guy!" parlor game, with respected actors filling even the blandest roles (sorry, Victor Garber). There are so many familiar faces that it's easy to forget the smaller cameos. But character work should not go unrewarded, and it is fun to pit castmates against one another! So Vulture has orchestrated the first and only annual Argo Character Actor Awards, to honor outstanding achievement in tiny roles. We will also designate an MVP at the end of the ceremony; stick around. It's just like the Oscars (except only one of these guys will actually be there).
Hardest Working: Bryan Cranston
Honorable Mention: Tie between Chris Messina, John Goodman
Argo is Walter White's fifth supporting role of 2012, and his first non-clunker (see: Red Tails, John Carter, Rock of Ages, and Total Recall), which should really earn him a secondary award for Most Perseverant. Messina clocks in with two movies and two television shows; Goodman is third with two movies and one TV gig, but you love Community so much that we'll count it twice. 
Mr. Congeniality Award: John Goodman
Sure, maybe it's easier to get along with everyone when you're just a makeup artist and no one is breathing down your neck about covert ops and bottom lines and whatnot, but without John Goodman, there would be no Fake Argo. He's the lynchpin, the peacemaker, and he also very calmly answers a very important phone call. Grace under pressure!
Closest Resemblance to Real-Life Counterpart: John Goodman
The closing credits take great pains to highlight how much all the movie houseguests look like the real life hostages, but glasses and mustaches can trick just about anybody. John Goodman, meanwhile, he just looks like that guy.
Best Yelling: Bryan Cranston
Cranston's spy gig mostly requires him to drive car pool and stare patiently at CIA forms, but he does get one extra-scream-y moment in the director's office, and he nails it. They bought those plane tickets, didn't they?
Best Language Skills: Scoot McNairy
And extra credit for making a nervous monologue about a fake movie storyboard sound so charming.
Best Negotiating Skills: Alan Arkin
Though perhaps it is for the best that he was not sent to actually ask for the hostages' release.
Most Welcome Comeback: Clea Duvall
Honorable Mention: Rory Cochrane
To quote David Edelstein: "It's nice to see Clea Duvall on screen again."  (We see you, too, Lucas from Empire Records.)

Most Committed to Eccentic Neckwear: Tate Donovan
Ascots trump all.  

Best Shaggy Hair: Kyle Chandler
Never, ever bet against Coach Taylor's hair. It is the hair of a champion.

Best Host: Victor Garber
Well, that was nice of him to let them stay so long. (And give them so much booze.)

Best Catchphrase: Alan Arkin
"Ar-go fuck yourself."

Best Other Catchphrase: Alan Arkin
"If I'm doing a fake movie, it's gonna be a fake hit."

Most Likely to Actually Win an Oscar: Alan Arkin
Oscar Futures says so.

And Your Argo Character Actor MVP Is: Alan Arkin! Well, of course he is. But thanks to everyone else for teaching us the importance of teamwork — in movies, in gonzo CIA plots, and in life.