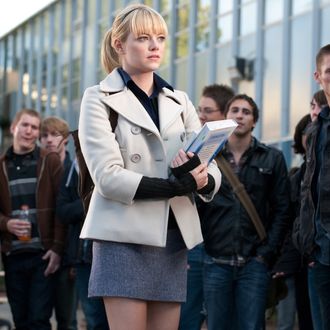 We'll miss you, Emma Stone as Gwen Stacy
Photo: Jaimie Trueblood/? 2012 Columbia Pictures Industries, Inc. All Rights Reserved. **ALL IMAGES ARE PROPERTY OF SONY PICTURES ENTERTAINMENT INC. F
We already knew that Shailene Woodley was in talks to play Mary Jane in the next Spider-Man movie. Well, the Hollywood Reporter elaborated on what that will entail and what it means for Emma Stone's character: 
"The Mary Jane role is proving to be only a very small part in Amazing Spider-Man 2 but blossoms into an integral lead for the planned third movie as the studio seeks to build to the classic 'Death of Gwen Stacy' story."
In the comics, Spider-Man accidentally kills Gwen Stacy while trying to save her. Is this how it will go down in this apparent trilogy? More important, does this mean Emma Stone will go back to being a redhead?