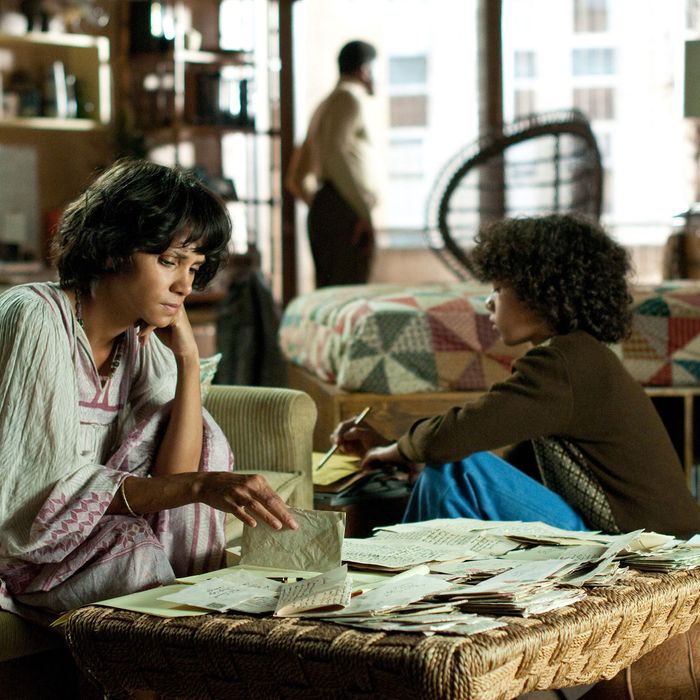 Photo: Reiner Bajo/Warner Bros.
This Weekend's Winners: The top films are both holdovers from the week(s) prior: Warner Bros.' Argo was No. 1 again ($12.3 million), and Sony's Hotel Transylvania ($9.5 million) carried the runner-up spot, while …
This Weekend's Losers: All the new films, the "best" of which, like Cloud Atlas ($9.4 million) and Silent Hill: Revelation 3D ($8 million), did poorly, while the worst of which, like Paramount's Fun Size ($4 million) and Fox/Walden Media's Chasing Mavericks ($2.2 million), did even worse.
How It All Went Down: Skyfall doesn't open for another two weeks here in the States, but it was a nonetheless apt description of the box office this weekend: With Hurricane Sandy looming, a bladder-busting two-hour-and-44-minute run time, difficult source material, and incredibly mixed critical reviews, Cloud Atlas marked the worst-ever opening for both the Wachowskis and their above-the-title star, Tom Hanks.
"They will blame it on the weather," said the head of one rival studio, before adding, "It's a problem when one of the directors has a viral video that is way more compelling than anything in the movie."
By comparison, Argo, as one studio vice-chairman explained to us, used "great reviews" and so, "overcame being 'period,' a drama and a vague title. Also: Regular people gave it an A, not a C  [CinemaScore exit poll rating]."
Meanwhile, Silent Hill did not fare well in a marketplace whose coffers (coffins?) are already over-flowing with Halloween product like Sinister and Paranormal Activity 4.
"Too many horror films," said one former studio marketing chief turned consultant. "They all go after the same audience, and while the economy is better, times are still tight. People also might be saving up and waiting for Bond and Twilight."
Indeed, Paranormal Activity suffered the loss of 70 percent of its audience in its second weekend, while Silent Hill took just 60 percent of the original film's opening weekend haul.
Finally, what can we say about Gerard Butler's Chasing Mavericks, which failed to even crack the top dozen films in release? Unlike the Fox film, which carries nearly unforgivable lines like "There are all kinds of sons, Rusty. Some are born to you; some just occur to you," plenty of surf documentaries, like Riding Giants, have already shown the waves at Mavericks, which, after you see them, require no embellishment or schmaltz.