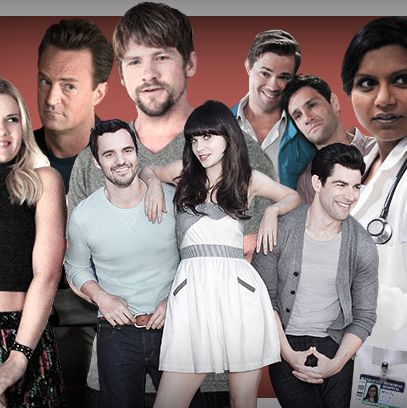 Happy Endings finally makes its third-season debut tonight at nine, which is several weeks after most shows have premiered or returned. You'd be forgiven for assuming it was already back, though, considering that the 9 to 10 p.m. hour on Tuesday nights is chockablock with shows that seem, well, an awful lot alike: Happy and Don't Trust the B—- in Apartment 23 on ABC, Go On and The New Normal on NBC, and New Girl and The Mindy Project on Fox. The shows are all quippy, quippy, quippy, with tons of pop references, bold female characters, and slightly damaged scruffy guys. But it goes further than that, too.
I want a blonde woman who's yelling. Yelling a lot!
You have come to the right hour of television! New Normal is almost 50 percent shouty blonde women: Ellen Barkin's Nana spends most of her screen time scolding people and being offensive, but there's also the sweet twentysomething single mom Goldie and her perky, precocious little girl Shania, both of whom spent plenty of time shouting. On the sillier side, there's the high-strung Jane and her goofy sister Alex on Happy, both likely to yell, and the put-upon June on Apartment 23, who could stand to yell a lot more. Mindy's resident blonde, her sensible friend Gwen, doesn't seem prone to yelling just yet, but she is prone to lectures, so it's almost the same.
I demand a romance! A hetero romance with a wounded guy!
Go On is all about the damaged romance: Matthew Perry's a recent widower who appears to be falling for the head of his support group (Laura Benanti). On New Girl, Jess (Zooey Deschanel) and stagnant bartender Nick (Jake Johnston) are constantly circling each other, even though Nick has the vague air of clinical depression (and Jess seems to have acute anxiety about sex and sexuality). Mindy seems to be setting up an attraction between Mindy and her jerky co-worker Danny (Chris Messina), who's extremely bitter after his divorce, and Happy has set Dave up as both Penny's and Alex's object of affection, even though he spent the show's first two seasons trying to rebound from Alex ditching him at the altar.
I like shows where the pilot had some kind of life-altering tragedy or mishap.
Happy Endings started with Alex leaving Dave at the altar. Apartment 23 started with June's job and apartment in New York falling through. Go On started with Ryan being forced to attend a grief-counseling group after his wife died. The New Normal started with Goldie discovering her boyfriend in bed with another woman. New Girl started with Jess discovering her boyfriend in bed with another woman. Mindy started with Mindy watching her ex-boyfriend marry another woman.
Bring unto me your best supporting characters!
The New Normal's Andrew Rannells is charm-o-tron 9000, but the show's real breakout is Bebe Wood, who plays the little girl. (You might also recognize her as the child Liz Lemon hit it off with last season on 30 Rock.) Good luck finding other elementary-school-age kids who can do a convincing Little Edie! Happy's Max (Adam Pally) and New Girl's Schmidt (Max Greenfield) are the best parts of their respective series, Brett Gelman's awkward beardo Mr. K on Go On stands out among the strong supporting cast of that show, and Apartment 23 has James Van Der Beek as the douche version of James Van Der Beek.
In a world of DVRs and streaming, no decision between them need be made. The only question: With them all hitting such similar notes, how should you prioritize your viewing? Start with the funniest: Happy Endings. Cut some of the sweetness with the melancholy of Go On (cute! but can make you cry), and then move in for a sour hour of more-biting comedies with The New Normal, Don't Trust the B—-, and the still-unpredictable (and not-on-tonight) Mindy Project. (Without commercials, you can watch three sitcoms in an hour.) Finish of with the reliably solid New Girl. Voilà.