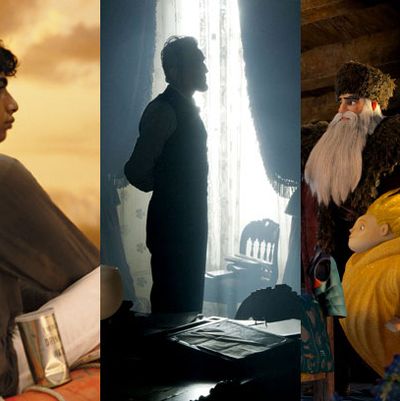 Photo: Twentieth Century Fox, David James, SMPSP/DreamWorks Top Stories, DreamWorks Animation
Today is Thanksgiving. And if you're trying to avoid it turning into another Dranks-Give-Me, may we suggest a trip to the cinema? Of course, we aren't saying family time is a bad thing, but sometimes that time is best spent not talking. Sure, there are a few football games on, but they might end up causing more tension than they relieve. So, while the turkey or vegetarian turducken is in the oven, head over to your local movie theater. Below is a list of what's out and what our critics have said about them. They're all better than having to explain why you don't write your parents letters anymore.
A Late Quartet
David Edelstein wrote: "I was happy watching these actors, happy going behind the scenes of a sober classical music ensemble instead of another druggy rock group, happy hearing Beethoven for a couple of hours. The movie is haut-bourgeois to the bone, but so am I: Let's hear some chamber music and have a little laugh and a cry!"
Anna Karenina
David Edelstein wrote: "Joe Wright's Anna Karenina is as boldly original a miscalculation as any you're likely to see." 
Flight
David Edelstein wrote: "But [Denzel] Washington takes Whip to another level. Despite the script's overfamiliar beats (yes, there are twelve-step meetings), he anatomizes Whip's existential seesaw. He breaks Whip's—and his own—cool into pieces, the good and the bad, the supremely potent and pathetically impotent. This is a titanic performance."
Life of Pi
David Edelstein wrote: "In Life of Pi, [Ang Lee] finally has a story in which that very distance is the source of the emotion. Pi has designed his own terrarium to keep from staring directly into the abyss. It's not denial. It's faith in something else: the transformative power of storytelling. The film is transcendent."
Lincoln
David Edelstein wrote: "By Spielbergian standards, Lincoln is a nuanced, knotty, bridled piece of filmmaking, an exercise in restraint. But Spielberg is a great film artist, and that tone evokes the spirit of his ­subject—the deep sadness, the expansive sardonic wit, the hardscrabble lawyerly intelligence."
Red Dawn
Bilge Ebiri wrote: "Watching a bunch of frantic chase scenes featuring characters you don't care about ends up feeling like a lot of noise and little else. The original Red Dawn may have been hateful and stupid, but at least it wasn't soulless."
Rise of the Guardians
Bilge Ebiri wrote: "And as much as its premise may sound like the start of a bad joke, Peter Ramsey's movie preserves just enough genuine childhood wonder in its whooshing, high-tech theatrics to make it a delight."
Rust and Bone
David Edelstein wrote: "The film is moving, evocative, and a bit of a mishmash… Director and screenwriter Jacques Audiard (A Prophet) is drawn to ugly, hopeless scenarios, full of messy violence and bodily fluids — which he then transforms into testaments to the redemptive power of love. Works for me." 
Silver Linings Playbook
David Edelstein wrote: "To convey Pat's monomania, [Bradley] Cooper speaks loudly and with little variation in pitch. It's not an especially imaginative performance, but with his fixed blue eyes he's scary-pure. It's [Jennifer] Lawrence who knocked me sideways. I loved her in Winter's Bone and The Hunger Games but she's very young — I didn't think she had this kind of deep-toned, layered weirdness in her.
Skyfall
David Edelstein wrote: "[Sam Mendes] seems hellbent on making the best Bond since Goldfinger — or the best, period, given that he exhumes Bond's old Aston Martin only to shoot it to pieces, the bastard. I don't think there's a shot in Skyfall that isn't intended to make you smile at its elegance, gasp at its audacity, or sit up and salute the proficiency of those high-paid Bond-picture stuntmen."
This Must Be the Place
Bilge Ebiri wrote: "A lot of people will not like This Must Be the Place at all. That's certainly a shame, but also understandable to some extent: Penn's performance is just too weird, the story too far-fetched, the tone too hard to gauge … And yet there's purpose in this madness."
Twilight Breaking Dawn Part 2
Bilge Ebiri wrote: "If anything, this series has gotten dumber and more inert as it has progressed, with this last one finally reaching over into an extended wallow in camp."
Wreck-It Ralph
Bilge Ebiri wrote: "It's mostly enjoyable, thanks to the likable cast and the visually engaging idea of blending a broad range of video-game imagery into one eye-popping mash-up: hyperdetailed CGI warrior chicks living alongside 8-bit simpletons, and so on and so forth."