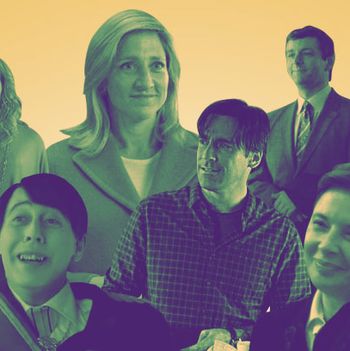 First came the news that Dennis "Beeper King" Duffy would be back. Then came the news that his return would prompt Liz to get married. (Gasp.) This got us thinking about all the weirdo characters 30 Rock has offered up in the last six seasons, and how many of them we want to see at least once more before the show shuffles off to that Kabletown network in the sky. This is by no means a complete list of all the show's magical randos, but merely the ones we most want to revisit.
Prince Gerhard (Paul Reubens): Yes, the sad, strange, feeble prince with an inability to metabolize grapes technically dies at the end of season one's "Black Tie," but our time with him was far too brief.
Bianca (Isabella Rossellini): 30 Rock has tried and tried to give Jack Donaghy compelling love interests, but one of the earliest attempts is still one of the best: his glamorous ex-wife Bianca. Who knew bickering over Arby's franchises could seem so alluring?
Greenzo (David Schwimmer): Next to Pit-Pat the Pansexual Spokescreature and the Greendale Human Being, Greenzo's one of our favorite fauxmascots.
Wesley Snipes (Michael Sheen): Liz has had plenty of interesting boyfriends, but none so British and belligerent as her soulmate of settling.
Dr. Drew Baird (Jon Hamm): More news from inside the handsomeness bubble, please!
Paul L'Astname (Will Forte): Even Jenna deserves a happy ending, and she and Paul were the show's best couple.
James Franco (James Franco): As long as he's with his pillow girlfriend Kimiko.
C.C. Cunningham (Edie Falco): Like we said: Jack's had a lot of love interests.
Angie Jordan (Sherri Shepherd): Would we watch weekly installments of Queen of Jordan? We would.
Abby Flynn (Cristin Milioti): Sexy Baby! We want another episode about Sexy Baby.
Moonvest (Craig Castaldo): No, not the president of CBS, but rather the gnarly hobo who asks Kenneth for his fingernails.