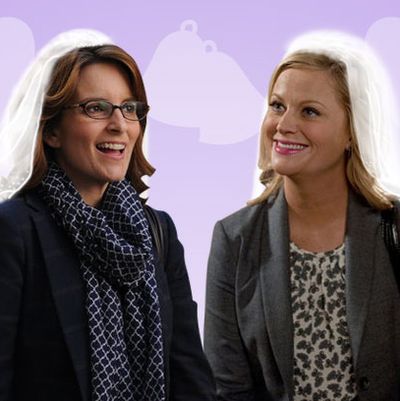 Leslie Knope and Liz Lemon: two beloved comedic heroines, two soon-to-be brides. 30 Rock and Parks and Recreation will both have wedding episodes before their seasons are done, so we thought we'd give our predictions, hopes, and guidance to the happy couples as they plan out the various traditional aspects of these glorious fictional nuptials.
Readings
Given Leslie's affection for town-hall meetings, she and Ben should take a Quaker-style approach and let anyone who feels so moved express their thoughts, whenever the spirit prompts them. (Though Leslie will have written out some "impromptu" words for Ann, April, and Ron, and given everyone a list of talking points.) Liz and Criss are less into crowd-sourcing, though, and should ask Jenna to read some kind of dramatic German love poem.
Dress
Leslie would likely attempt to re-create Hillary Clinton's wedding dress but give it a Kate Middelton kind of spin. We've seen Liz in a frilly wedding dress before (tragically ruined by ham grease), but given the show's recent Sex and the City homage, we're picturing an elegant suit. Liz Lemon likes a lady blazer.
First Dance
Leslie and Ben have two clear options: "Catch Your Dream," Leslie's inspiring campaign song, and "Whoomp (There It Is)," the song Ben played when he was sworn in as a teen mayor. Criss will probably write an original song for Liz, which she will dance to, by herself.
Food
As a gesture of compromise, Leslie and Ben should serve both pizza and calzones at their wedding. (It's hard to imagine them going too formal.) Obviously the rest of the courses will be waffle-based. For Liz and Criss, the menu will have to include organic hot dogs, a variety of sandwiches (which everyone will be allowed to consume in peace), cheesy blasters, ham, and a night-cheese platter.
Party Favors
Ben and Leslie bonded over their mutual love for democracy, so pocket-size Constitutions seem appropriate. For Liz and Criss, personalized mini-bags of Sabor de Soledad.
Cake
For Leslie and Ben, a Game of Thrones cake. For Liz and Criss, a chocolate-chocolate-chocolate-ack cake.