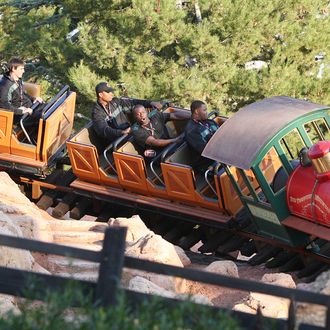 Players from the University of Oregon Ducks celebrating the 98th Rose Bowl Game ride Big thunder Mountain Railroad at Disneyland park on December 27, 2011 in Anaheim, California.
Photo: Paul Hiffmeyer/Disney Parks/Getty Images
Disney's Big Thunder Mountain Railroad is a damn fine rollercoaster. So naturally, ABC is developing a TV show based on it. The network recently picked up a "supernatural adventure drama script" that promises 45 minutes of boredom followed by three minutes of action and an ending covered in puke.