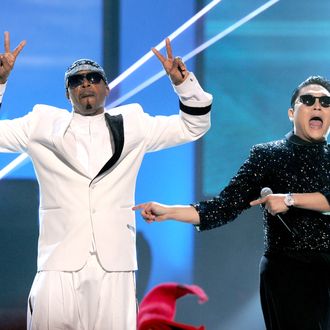 Photo: Kevin Winter/Getty Images
That Psy would close out the American Music Awards — the pop star pageant that hands out trophies based on listener votes — was as forgone a conclusion as the fact that Nicki Minaj would show up and look pissed at people. (She did!) This is a show about popular spectacle, of which "Gangnam Style" is the very definition, so the question very quickly became about who would join Psy onstage for some light horse-galloping at the end of the night. Drake? (He was in the house, even if the cameras only gave him two seconds of airtime.) ABC star Eric Stonestreet? Pink, from a trapeze? As you will have deduced from the headline, the surprise galloper was MC Hammer, whose "2 Legit 2 Quit" mashes up surprisingly naturally with "Style."  Hammer kills those shuffles, obviously.
Also of note at the AMAs: Illuminati enthusiast Ke$ha performed "Die Young" with giant war drums, sliver-spray-painted men in tribal leggings, some sort of orgy altar centerpiece, and at least one high kick. Our notes may or may not read "this is so awesome." 
Here is Taylor Swift's Phantom of the Opera meets Black Swan with a hint of Priory of Sion take on her dubstep classic "I Knew You Were Trouble."  Please note how the cameras cut immediately to Hayden Panettiere (who plays Black Swan Swift on ABC's Nashville; salute the cross-promotion).
Christina Aguilera went for inclusiveness, with a side of spangle Hula-Hoops and a writhing people pyramid, lest you forget how much she likes sex.
And now let's take a moment for Bieber, who bravely showed up at the AMAs not 48 hours after being photographed outside Selena Gomez's house in drop-crotch pants. (Those photos are still so remarkable; please go look again.) Biebz went the acoustic route for "As Long As You Love Me" and, still rocking the weird crotch look, took on the Big Sean verse — then smashed it. The voice has changed and the verse is prewritten, but how do you watch this video and doubt Bieber's talent? How, Selena?