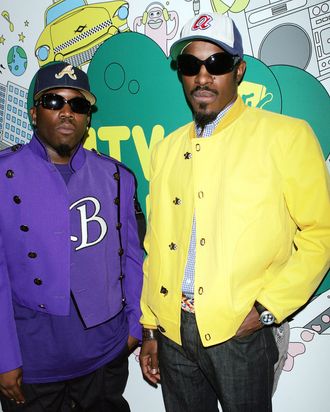 (U.S. TABS OUT) Actor/rappers Antwan A. (Big Boi) Patton (L) and Andre (Andre 3000) Benjamin of Outkast pose backstage during MTV's Total Request Live at the MTV Times Square Studios on August 22, 2006 in New York City.
Photo: Scott Gries/Getty Images
Why isn't Andre 3000 on Big Boi's new album (out December 11)? "He could've been on any song he wanted to," Big Boi told The Village Voice.  "I gave the motherfucker about five songs, but I guess he was just too busy. He said he had to do some Gillette shit. No for real.  He said he had some contractual obligations." How do you say "zing" but with sadness?