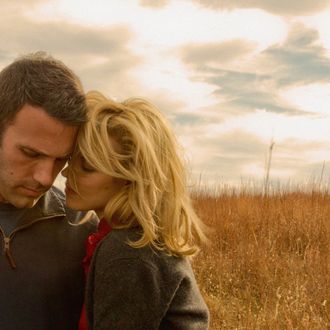 Ben Affleck and Rachel McAdams
Photo: Mary Cybulski/RedBud Pictures
By now you'll have heard about all the postproduction cuts (Rachel Weisz! Michael Sheen! Ben Affleck's dialogue!) and dramatic voice-overs  in Terrence Malick's latest film, To the Wonder. But lead actor Ben Affleck wants to make sure that you know what you're signing up for: "Honestly, you have to want to see that movie — there's hardly any talking," he warns GQ. "It's a tone poem. If you don't want to see that, you should not go." As for Malick's filming process, Affleck says he learned a lot as a director, but was slightly confused as an actor.
"My character doesn't really do that much. It was kind of a wash for me in terms of learning something as an actor, because Terry uses actors in a different way — he'll [have the camera] on you and then tilt up and go up to a tree, so you think, 'Who's more important in this — me or the tree?' But you don't ask him, because you don't want to know the answer."
Nobody tell Ben Affleck about Tree of Life.