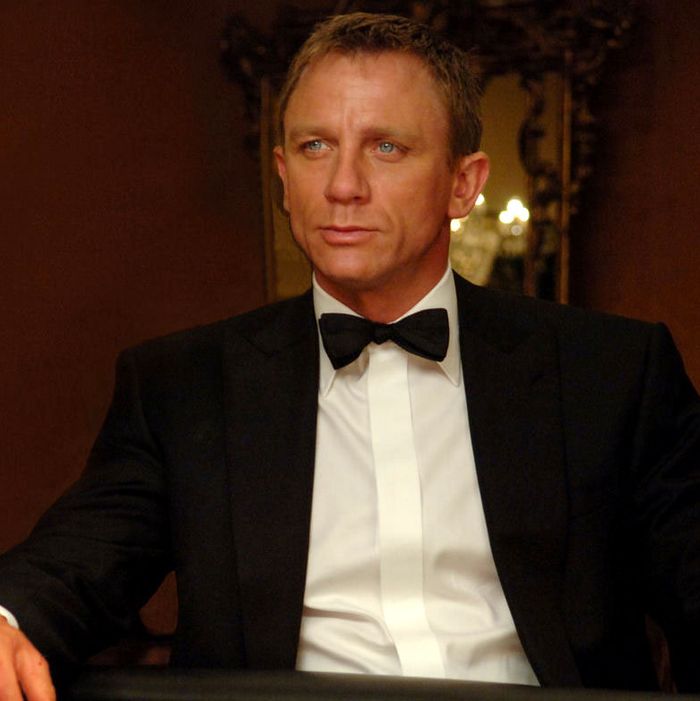 Throughout Skyfall, James Bond runs, jumps, fights, and falls, yet he never fails to look dapper. It's hard not to be incredulous. Anyone who's worn a suit (even a nicely fitting one) to a wedding knows that it's difficult enough to dance with the thing on; the prospect of fighting terrorists in one seems damn near impossible. How is Bond able to land on a moving train in a perfectly tailored bespoke suit? We spoke with Brooklyn fine suit-maker and Bond fan Peter Frew of Archangelo Sartorial about it. He studied under a bespoke tailor from Savile Row, the London shopping district famous for its men's suiting and likely where a real-life Bond would shop. Frew let us in on what Bond's tailors would've had to do for him to both look kick-ass and kick ass at the same time.
How has the look of Bond changed?
The look is a bit more modern right now. The buttonholes are higher than in Sean Connery's day. And the suits are a bit more fitted. The difference is in the silhouette and the width of the lapels. It's not a big change. It's still a single-breasted jacket.
Have you ever had a customer who wanted a suit he could ride a motorcycle in?
Yeah. Usually, I recommend a little fuller in the back. Not overly full but just a little more room than normal. Armholes: really high. Buttons: high. And the sleeves are a little bit more full.
Why is that?
It comes with movement — you have to bend over and lean forward, so you have to give as much comfort as possible in the back. 
How would you tailor a suit or tuxedo to make it fighting -ready?
Armholes would be high. That's the key thing — armholes have to be high. The shoulders have to be natural, so as little shoulder pad as possible. Small armhole, but the sleeve has to be a little bit fuller, so you're able to just raise your arms up. Also, it has to be the correct width for the arm. It shouldn't be too wide or too close. There's no general rule on how it should be – it depends on the customer's arm.
And what about if someone needed to be able to kick. What alterations would need to be made?
Oh, they would definitely have to be comfortable wearing their trousers really high. Because if you're wearing a low-cut trouser, then you'd have to wear a fuller cut in order to have that comfort. But if you want to wear a nice, skinny trouser, a slim-fitting trouser, then you have to be comfortable wearing your crotch high. Pretty much, the key for that kind of movement is the crotch. Like, the jacket would be the armhole, for the trouser it would be the crotch.
So you're saying it needs to be higher up?
Yeah, I mean, not giving him a wedgie [laughs] but it should be high enough, you know, just touching your person.
How would a suit need to be cut for the wearer to be comfortable carrying a handgun?
I've done a suit for someone who carries a small .22 – legally that is [laughs]. The thing is a fuller chest. So right under the ribcage, exactly that position where the weapon would be concealed, that would be fuller. And then everything else would be tapered down.   
There seems to be a lot of very specific alterations needed. Would it be possible for James Bond to do his thing if the suit wasn't specifically made for him?
No, no. It's not possible. There's no fixed amount of how deep or how wide the armhole should be. It all depends on that customer. How your arms are when you're standing relaxed is incredibly important: Are they forward, are they slouching to the side, are they a little back as if your chest is pushing up? The balance of the sleeve has to be just in the right place and Bond wouldn't get the accuracy necessary without it being costumed.  
With suits, it's exactly where James Bond's lavish lifestyle is necessary. He needs to get the $4000 suit?
Right, correct.
How long do you think a suit can withstand nonstop fighting and running and jumping and falling?
That would depend mostly on what kind of abrasion the suit is getting because it's still fabric. If it's rubbed against something coarse, then that could really result in significant damage. But in terms of running around and moving or rolling on the ground and stuff like that, then that suit could last, you know, ten years, fifteen years, it depends.