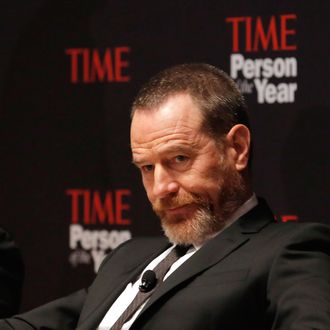 Photo: Jemal Countess/Getty Images
How does Breaking Bad star Bryan Cranston tap into the dark, depressive, violent undercurrent that courses through society? Well, there was that one time he watched a man die on the street. From The New Yorker:
Cranston paused on Central Park West near Seventy-first. "In August of 1987," he said, "I was walking to the doctor, because I had a gastrointestinal bug. I was just turning the corner when I heard Bam! Blunk! Aaah!" The Aaah! was a terrible cry. "I turn and see a man on the street, run over, blood on the ground, his eyes are turning up, and his neck was"—Cranston crooked his own almost sideways. "I put my hands under his head so it would be softer than the asphalt, and I could feel him gurgling, and I was shouting, 'Did anyone see the car?' The doorman said, 'Oh, that's Mr. So-and-So. I knew he was depressed, but …' And then I saw that the parked car next to us had"—his hands carved out a huge dent. "And I realized, Oh, my God—he threw himself from an upper window. I was so delirious from illness that, as I watched him die, I felt it all as these sharp fragments, a bad editing job of my life. And I became angry at the man, and pulled back from him."

After a moment, he added, "Every experience feeds an actor, and I've learned that depression is all around us"—he gestured toward the hurtling passersby.
Yeesh.