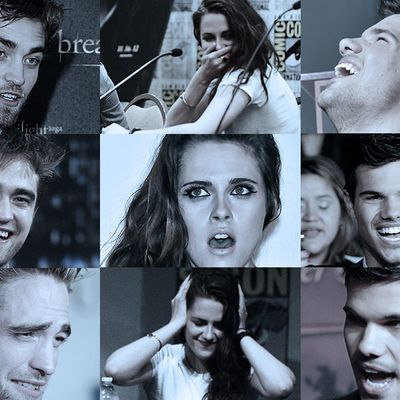 At this point in their press tour, the cast of Twilight would probably rather a reporter whip out this picture and ask where Rupert Sanders's face was headed than field another question about their "journey coming to an end." But Twi-writers can't seem to get enough of the "bittersweet" soundbite, and so Robert Pattinson and company have been forced to express (feign?) their disbelief and sadness over and over and over again. How's that going for them? Vulture surveyed dozens of interviews and figured out that there are basically five ways (and one totally random one) for the stars of Twilight to tackle The Most Mundane Question on Earth.
1. Incredulously

2. Nostalgically

3. Fearfully

4. Optimistically (It's bittersweet.)
5. With Respect to Time

Totally and Completely Randomly
And, just for fun, here's what happens when Jimmy Fallon asks Robert Pattinson and Taylor Lautner essentially the same exact question, a day apart:
Jimmy Fallon (on November 8): Millions of Twilight fans out there just cannot wait to see this. It's very almost heartbreaking because they don't want it to be over. It's a little bittersweet, isn't it?
Robert Pattinson: For them! [Laughs maniacally.]
Jimmy Fallon (on November 9): This is it, this is the last Twilight. It's a little sad for fans.
Taylor Lautner: It is. It's sad for us too.
Taylor Lautner: Diplomatic. Robert Pattinson: British.