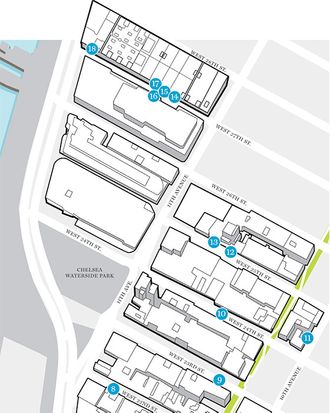 Hurricane Sandy devastated Chelsea's galleries, many of which are located in Flood Zone A. Thousands of soiled artworks have been shipped off to conservators; many were soaked beyond repair. Gallery spaces, befouled by Hudson River water, required new walls and floors; basements full of inventory were totally flooded. At press time, many galleries were still without heat or electricity. Here, a few gallerists detail the damage they sustained and their plans for reopening.
1. Printed Matter, Inc.
195 Tenth Ave.
Damage: Six feet of water destroyed approximately 90 percent of the basement inventory. "We triaged the books: 'beyond repair,' 'possibility,' 'safe,' " says associate director Max Schumann.
Estimated loss: $200,000.
Reopened: Since the ground floor was spared, the shop is open. "But Chelsea has been dead."
2. Jack Shainman
513 W. 20th St.
Damage: Three feet of water in the basement. "We have a lot of photographs, which can always be remade," says associate director Elisabeth Sann. "And all of our artists are living, which is good."
Targeted reopening: November 13.
3. Bortolami
520 W. 20th St.
Damage: Three feet of water, which knocked out the phones and electricity. Significant damage to artwork: "Paper, wood—both problems," says owner Stefania Bortolami. "I now understand why museums are full of oil-on-canvas and bronzes."
Targeted reopening: November 17 (but "it depends on Con Ed").
4. Anton Kern
532 W. 20th St.
Damage: "Three feet of saltwater, sewage water," says gallery director Christoph Gerozissis.
Targeted reopening: November 13. "We just want white walls, a clean floor, and the doors open. It's not a competition."
5. Paula Cooper
534 W. 21st St.
Damage: Three and a half feet of water. "Carl Andre's show was up—a hundred-and-something timbers, and it just tossed them all over," says Cooper. "We were not expecting the surge to be that high," says gallery director Steve Henry.
Targeted reopening: November 10.
6. Haunch of Venison
550 W. 21st St.
Damage: Three and a half feet of water damaged the storage room and offices. "One of the computers started working this morning," says
gallery manager Silas Shabelewska-von Morisse.
Reopening: November 12.
7. Matthew Marks
526 W. 22nd St. and 523 W. 24th St.
Damage: The space on 24th was being renovated, so everything was already in storage. But the 22nd Street gallery took a hit. "We had Sheetrock and gasoline for the generators shipped from upstate," says director Jeffrey Peabody.
Targeted reopening: November 9.
8. Zach Feuer
548 W. 22 St.
Damage: "We prepped: We elevated the art and sandbagged the back," says Zach Feuer. "But I don't think it's possible to prepare for five feet."  Reopening: December 1. "I feel very lucky to have insurance and a good landlord."
9. Von Lintel
520 W. 23rd St.
Damage: One of the only ground-floor spaces that managed to stay bone-dry. "We duct-taped our windows and doors," says director Dana Greenidge. "The building we're in experienced flooding, as did the gallery on the other side of the building. The wonders of duct tape!"
Reopened: November 3.
10. Hasted Kraeutler
537 W. 24th St.
Damage: Two feet of water. "We lost about four works by living artists, which we are thankfully able to reprint," says Joseph Kraeutler. "Vintage prints would be irreplaceable."
Targeted reopening: "About two weeks. We're re-creating Albert Watson's show exactly as it was."
11. Yossi Milo
245 Tenth Ave.
Damage: Sixteen inches of water. "I was there before the storm, propping hundreds of works as high as possible on every surface," says Milo. "Nothing was damaged, but some pieces were less than an inch from the water."
Reopened: November 7.
12. Marlborough Chelsea
545 W. 25th St.
Damage: There was no time to move Justin Lowe and Jonah Freeman's sculptural installation before Sandy. The basement also flooded with fifteen
feet of water, zapping the electricity.
Reopening: January 10. "We're lucky we have the resources to deal with this. Our thoughts go out to the smaller galleries who have been less fortunate," says director Max Levai.
13. Cheim & Read
547 W. 25th St.
Damage: "We managed to survive the storm with only minimal damage to the gallery and no damage to the artwork," says Howard Read. But the
carpet was soaked, and "we did lose Internet."
Targeted reopening: November 15.
Soaked on 27th Street
"Five galleries—Wallspace (14), Derek Eller (15), Foxy Production (16), Winkleman (18), and us—share a basement which was filled to the ceiling with water," says Katia Rosenthal, assistant director of Jeff Bailey Gallery (17). At Bailey, a makeshift "art hospital"—paper works spread over the floor, aided by an aerator—was improving things, "but there are a lot of unknowns."
*This article originally appeared in the November 19, 2012 issue of New York Magazine.