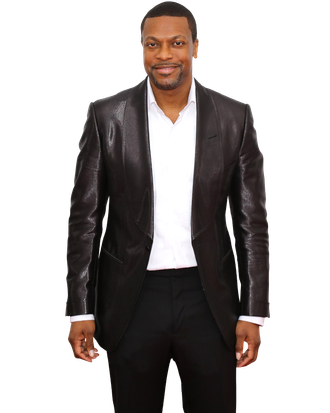 Chris Tucker.
Photo: Getty Images
Take Chris Tucker off your Missing Persons list: The comedian is finally back on the big screen, after fifteen years of making nothing but Rush Hour films, with Silver Linings Playbook. He stars alongside Bradley Cooper and Jennifer Lawrence — who play a bipolar dude and depressed widow, respectively — as Danny, also a crazy person who goes in and out of a mental institution. (He also takes part in the movie's very fun dance scenes.) A cynic might say Tucker's return is out of financial necessity, and that might be true, but the comedian attributes his absence to a lack of good roles. He chatted with Vulture about why this movie ended that streak, a return to the Rush Hour franchise, and teaching Jackie Chan to moonwalk.
Why haven't you done a non-Rush Hour film in the last fifteen years?
It's not that often you get a good role with a great director, and that's the main reason I did this, because I knew David O. Russell was a great director, a smart director, and I thought it would be fun to learn from him. Three Kings and The Fighter had great music in them, too, and I thought they were directed so well. But it's mainly about the script. I've been looking for a good script with something different — I didn't want to do the same thing — and nothing really grabbed me until this.
What did you do with all the piles of scripts you got that you didn't like? For example, Vera Farmiga burns hers.
What?! [Laughs] That's a great idea. I'm going to start doing that. I've got a big closet of scripts, and a big stack of scripts on the side of my desk, because you get a whole bunch. Nothing's going to be perfect, and I realize that; but I am a perfectionist, so you go through a lot of stuff. I can't even remember all the ones I was offered, but it was a lot of action, and it just didn't connect with me, and it wasn't what I wanted to do at the time. It didn't move me. This was fresh and different and allowed me to show a different side from the Rush Hour comedies. I mean, this isn't a big role, but it's an important role, and it was on the next level. The subject matter is great, dealing with a character who is bipolar, and my character being in a mental institution. Most of the other scripts I got just required one note from me, versus all the depth to this character. You wonder, Why is he in there? Did he drink too much, or … ? And then he says that he mixed drugs together and went off. And then there was the bonus that I didn't have to work every day — no pressure! I got to go in there and dance and get out.
The scene where you come in and give Bradley Cooper some pointers on his dance routine is so fun. You could set up shop as a dance instructor!
That was a lot of fun! I think that was my first day, or one of my first days shooting. It was free, and it was a lot of improvisation. "Black it up," that was David O. Russell. "Black it up, dude!" [Dances in his chair to demonstrate] A lot of people like that line. I could give some [lessons]. I got a few good moves. I've actually tried to give Brett Ratner dance lessons, but he thinks he already knows how to. He gets out there and does his thing, [imitates a dance move] and he thinks he's got it.
Does he?
Not really. [Chuckles] I could teach him to look like Bradley Cooper. It would be fun to try to teach Jackie Chan some dance moves. I would teach him to do some Michael stuff, and some hip-hop/rap stuff, because that would make me laugh, because he would do it in a minute. I could teach Jackie Chan to moonwalk. That would be funny.
There's talk of a Rush Hour 4, and a Friday 4. Are you aboard for either?
Rush Hour 4, we're looking into it, me and Jackie [Chan]. We're trying to get it going, so we're developing something, so hopefully we'll get something in.
Rush Hour producer Andrew Sarkissian thought a twist could be for Jackie to marry your character's cousin, and he suggested the cousin could be played by Octavia Spencer.
Yeah! I heard that. I don't know what he's talking about. [Laughs] We really want to take it back to the first one, the realness of it, and explore my character a bit more. Everyone wants to do sequels, though. The rumor got out there that I'm doing Friday 4, but the Internet — they lying! It's kind of crazy. My fans are so hyped up about it and I didn't want to let them down, so at one point I said, "We'll see," but I'm pretty sure now I won't do another one. I'm still fascinated that they love that movie the way they do, and if they do another one, I think it would be good, but I want to do some different stuff. Keep moving.
When you were down in Atlanta to shoot your upcoming stand-up comedy movie, did Jennifer Lawrence invite you on set for Catching Fire? Are you a Hunger Games fan? Team Peeta or Team Gale?
Team Gale! I'm pretty sure she should be with the guy she went hunting with. I can't wait to see the next one. She didn't know I was in Atlanta at the same time, but I would love to go on set with my son. He learned archery because of Hunger Games. He went and got a crossbow. I didn't let him — he just went and got one on his own! Don't worry, he's real careful with it. He won't shoot anyone with it.