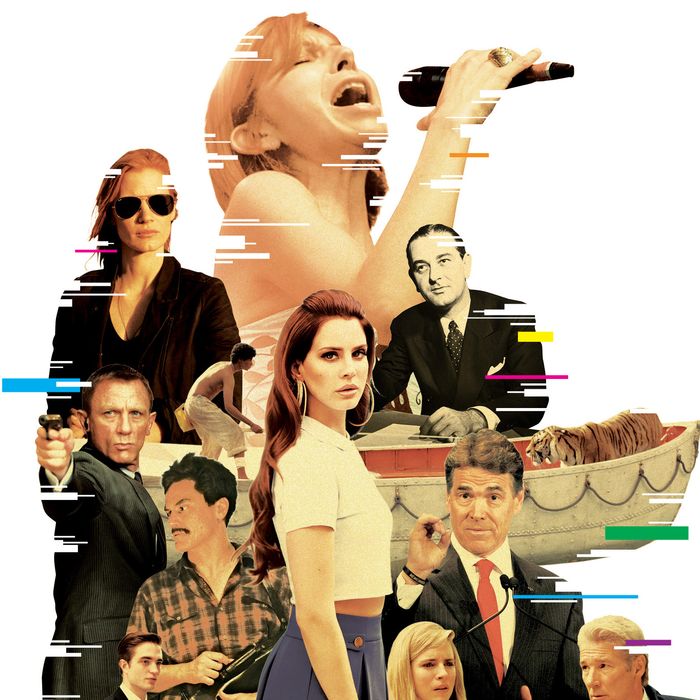 How would you grade the culture in your own genre this year compared with other years?
David Edelstein: Movies were better than average, although I only used the M-word ("a masterpiece!") once re Kenneth Lonergan's extended cut of Margaret, which was shot in 2005. This year's triumphs were varied, from the slow and meditative (Life of Pi) to the poppy and bantamweight (Pitch Perfect). Zero Dark Thirty was a terrific film, and any year in which the populist Steven Spielberg does Lincoln proud and the pointy-headed Sam Mendes hits a triple with James Bond is, at very least, middlebrow heaven. Some reviewed The Master on their knees, and while I respected its distinctive discordancy—can a movie be at once feverish and glacial?—I was unmoved.
Jerry Saltz: It's easy to say "This year in art sucked." After all, about 85 percent of all shows of contemporary art are bad. But 85 percent of all art made in the Renaissance was bad. Of the good shows I saw, some really stood out. The Whitney Biennial was all about slightness, not being showy, artists making their ways in an art world awash in bigness and money.
Matt Zoller Seitz: I'd grade scripted television as a C overall. But of the stuff that aims to be truly inventive, I'd give the medium an A-minus.
Kathryn Schulz: I think I can safely call 2012 average. Overall, it was a stronger year for nonfiction than fiction—a situation that would've surprised me back in January, when I was looking forward to big new novels from several authors I really love.
Nitsuh Abebe: The spirit of 2012 seemed like a good one. The world increasingly stopped worrying over the complex infrastructure of music—press, labels, scenes, career arcs, "relevance," chart performance—and embraced the notion of a messy, tangled wilderness one tramps through in search of meaningful experiences, not mapmaking.
Justin Davidson: Despite some standout events, 2012 was demoralizing. The Met felt adrift, and New York City Opera couldn't claw its way back to artistic health. I sense a vague, pervasive unease, a kind of what-are-we-doing-here existential crisis. I'm more encouraged by the saplings: new music groups, tiny new venues, entrepreneurial musician-composers who aren't waiting to be discovered but are instead building their own Establishment. I heard and saw things that didn't make it onto my top-ten list because I wasn't personally convinced—Missy Mazzoli's opera Song From the Uproar, for instance—but I'm glad to see young composers being unafraid to fail.
Scott Brown: Unless you loved Giant (I didn't), 2012 was a dull year for new musicals, but a pretty thrilling one for plays. Tribes, Sorry, Detroit, Cock … God, that sounds like Craigslist shorthand! We continue to see young playwrights breaking through: Annie Baker, Amy Herzog, Young Jean Lee, but also newer newcomers Samuel D. Hunter (The Whale), Joshua Harmon (Bad Jews), and Jackie Sibblies Drury (We Are Proud to Present …). And deserving yet starless non-musicals (like Clybourne Park) are surviving (well, briefly) on Broadway, even without Al Pacino attached.
What 2012 works do you think we'll still be discussing in five years?
Edelstein: Argo might well be studied as a bait-and-switch masterwork: In showing the capture of the American Embassy in Tehran, Ben Affleck first made a fetish of authenticity, then served up a shamelessly Hollywood (and wholly fictional) climax, then capped the whole thing off with a coda that was essentially a tribute to his movie's authenticity, complete with side-by-side photos of the actors and their near-identical real-life counterparts. Well done, sir!
Saltz: I'm not sure that we'll be discussing a genre so much as a gender. Klara Lidén's installations now equal the psychic power of Richard Serra's. Marie Lorenz's piloting her small rowboat around New York's harbors opens topographical and psychological thought-structures. Andra Ursuta's revolutionary sculptural powers and ways with materials feel untamable. Meanwhile, Trisha Donnelly, Jessica Jackson Hutchins, Liz Glynn, Huma Bhabha, Kerstin Brätsch, Joanna Malinowska, and others suggest an incipient "greatest generation" in the offing.
Seitz: Louie, Mad Men, Breaking Bad, and Community, for sure. Homeland and Girls, maybe.
Schulz: Of this year's batch, I'd put the most money on Robert Caro's biography of Lyndon Johnson—and not just because we'll probably still be waiting for the final volume in 2017. Let's
hope to God that isn't also true of Fifty Shades of Grey.
Abebe: I can't help thinking of this one in a backhanded way: The five-year mark is often when we're annoyed at influential sounds for the half-decade of uninspired followers they've spawned. There are certain names—retro chanteuse Lana Del Rey, grotty pop star Ke$ha, songwriter Frank Ocean, pugnacious Chicago rapper Chief Keef, Harlem stylist Azealia Banks, Canadian synth-mystic Grimes—that might wind up touchstones, for better or worse.
Davidson: The Dutch composer Michel van der Aa just won the Grawemeyer Award, typically an honor bestowed on recognized sages, for his multimedia cello concerto Up-Close, a terrific piece—musically wild, visually imaginative, and tightly engineered.
Brown: Richard Nelson's Sorry is a quietly massive masterpiece, a kind of extended exorcism for the demons of the baby-boomer generation. The next one arrives in 2013, on the anniversary of the Kennedy assassination. Stock
up on holy water now.
What culture outside of your own genre did you enjoy this year?
Edelstein: I was reminded why theater is my first love watching the Soho Rep's Uncle Vanya. And I find myself joyously shocked by Louis C.K., who is transforming television comedy in ways that make Curb Your Enthusiasm look as unchallenging as Curb Your Enthusiasm made Seinfeld look. I also lean toward TV for excitement right now because writers and producers (notice I sideline directors—unfairly?) are doing what once only soap-opera creators did: Long, convoluted narratives that don't conform to the rules of Hollywood story structure are becoming the norm.
Saltz: Other than being allowed to say that anything to do with Lena Dunham is fantastic, because I'm her godfather, as someone who never leaves his desk, except to see art, I had to have the actual world crash into me somehow. My solution? Have right-wing radio playing at all times. Other than my wife threatening to jump out of the car, this conservative immersion told me I was witnessing the fissuring of an architecture of cynicism. It also confirmed an old suspicion: Reality has a liberal bias.
Seitz: David Cronenberg's Cosmopolis seems pretty much perfect to me. I saw it a couple of months ago, and not a day has gone by that I haven't thought about it.
Schulz: This was the year I fell in love with Twitter. Fathers, lock up your deadlines. Other stuff I liked: Christian Marclay's The Clock, Ai Weiwei's cover of "Gangnam Style," the new Grizzly Bear album, the fierce farce of Pussy Riot versus Putin, and our recent, thank–you–Nate Silver cultural turn toward empiricism.
Abebe: Maybe there's just a "type" of person who's primed to be spun around by Sheila Heti's novel How Should a Person Be?—someone for whom that question already seems open and vexed and not a distraction from simply being. I appear to be very much of that type. Elsewhere in books whose titles are questions, there's Jeanette Winterson's Why Be Happy When You Could Be Normal?, a vivid argument for why art and literature, and the posing of such vexed questions, are not just intellectual pastimes for those already lucky enough to have all their needs met.
Davidson: I'm addicted to Homeland. I was transfixed by Robert Caro's latest installment of the LBJ saga and initially bewitched and then made impatient by Michael Chabon's Telegraph Avenue. My latest infatuation is with the Mexican singer Magos Herrera.
Brown: I really dug Looper. For me, the implosion that was Smash was more entertaining than most "good" shows. And the rise of delicious, stealth-vegan cuisine (alley-ooped by the geniuses at the Cinnamon Snail) has been delightful for those of us looking to eat lower on the food and carbon chains.
Most talk about the economics behind culture was pretty apocalyptic. From where you stand, how much did the money affect the work itself?
Edelstein: Along with my peers, I gripe about the increasing number of superhero films, and I'm sad that so many critics so uncritically use words like franchise, which should be reserved for your local Burger King. Still, you can't complain about the number of movies being made. Never have the means of making movies been so accessible to so many. The problem is getting bodies into seats. Every year, I'm depressed that so few of the documentaries I've loved break through. The rise of video on demand will make it possible for small movies to earn back costs via $9.95 24-hour rentals (Arbitrage is this year's notable success) and for people in cities without independent cinemas to see the kind of movies they never have before. That's great—but on the other hand, that's TV.
Saltz: Meanwhile, the art world is going through a ridiculousness of riches. Or a teeny-tiny, mostly male sliver of it is. Auctions are out of control as people with penises buy the work of a handful of artists with penises for the highest prices ever paid. The good side of this is that none of it has anything whatsoever to do with art. It's a gated community for the .0001 percent.
Schulz: My fears are the obvious ones: that marketplace-minded publishers—all four of them—will shy further away from literary fiction, international authors, poetry, and the other marginal but hugely important regions of the book world. It's difficult to see the economic model by which serious writers will make a living five years out. But I find it equally difficult to tell what kind of qualitative impact those economic realities are having on what we read right now. Maybe the chickens haven't yet come home to roost. Or maybe the downsides are offset by certain benefits for book lovers. (There's no question that the Internet is better for connecting obscure-book owners to obscure-book seekers than anything that came before.) Bottom line: The economic and technological changes are real, but I just can't bring myself to wax apocalyptic about the future of books. People have been doing so since Gutenberg.
Abebe: The music industry can pride itself on being a real pathbreaker in this regard; it's been all apocalypse for
so long now! Musicians seem ever-more aware that if there's no safe route, no label or publicist that knows better than you how to get ahead, the richest course is to create the music and the community you want. Which might be true whether you're a basement-bound punk or an aspiring megastar.
Davidson: It's almost impossible to cut costs at an orchestra without slicing into what you actually do. But the Establishment has been wrestling with systemic change for a while now, and there are signs that a smart approach pays off. The Philadelphia Orchestra has wormed its way out of bankruptcy, Lincoln Center is selling expertise to China, and the New York Philharmonic is trying weird, one-off contemporary-music extravaganzas—and finding that people get very excited.
Brown: Theater has the advantage of being so economically dysfunctional to begin with that bad times might even be a creative stimulant. The downturn has exposed the kind of
social fissures and shames that make great fodder for playwrights.
What was 2012's defining cultural moment or phenomenon?
Edelstein: Nothing I saw or read approached the Republican-primary debates. I still can't get over front-runner Michele Bachmann, and then front-runner Rick Perry, and then
front-runner Newt Gingrich, and then front-runner Little Ricky Santorum … These stumblebums, along with that dwarf among dwarves, Mitt Romney, nonetheless haunted my dreams.
Saltz: I see a solidification of the de-solidification of the art object. Artists have been working smaller, more material-oriented, creating works that don't pass easily into the system or that can't quite be categorized.
Seitz: Streaming video and social media engulfed just about everything. That's sort of the umbrella that's looming over every other story.
Schulz: 2011 was the year when the second screen tipped over into mass use: We now simultaneously watch news events unfold through one source (TV, radio, CBS.com) and the world commenting on them via another (Facebook and Twitter, chiefly). Last year, social media was ballyhooed as a tool of citizen journalism. This year, it shifted into a different role, as one endless real-time footnote, errata sheet, graffiti wall, and stand-up-comedy routine for the news. The second screen fact-checked the first and the first reported on the second as if it were newsworthy—which it sometimes was.
Abebe: One of the worries that used to float around the music world was that having access to so much media would leave people atomized and un-communal, stranded in their own little niches and lacking common touchstones (and what would become of wedding D.J.'s, then?). But that endless-footnoting quality has lately done the opposite, and Americans spent this year bouncing around to "Gangnam Style" and car-singing to "Call Me Maybe." What a giddy monoculture we have! Also, there was that pretty hilarious period when Taylor Swift was dating a Kennedy.
Brown: The election, which, I think, was more of a cultural-aesthetic turning point than a political one. And the dawning recognition that the only media entity that matters anymore is Univision.
Click Here to See More From the Year in Culture 2012
*This article was originally featured in the December 10, 2012 issue of New York Magazine.