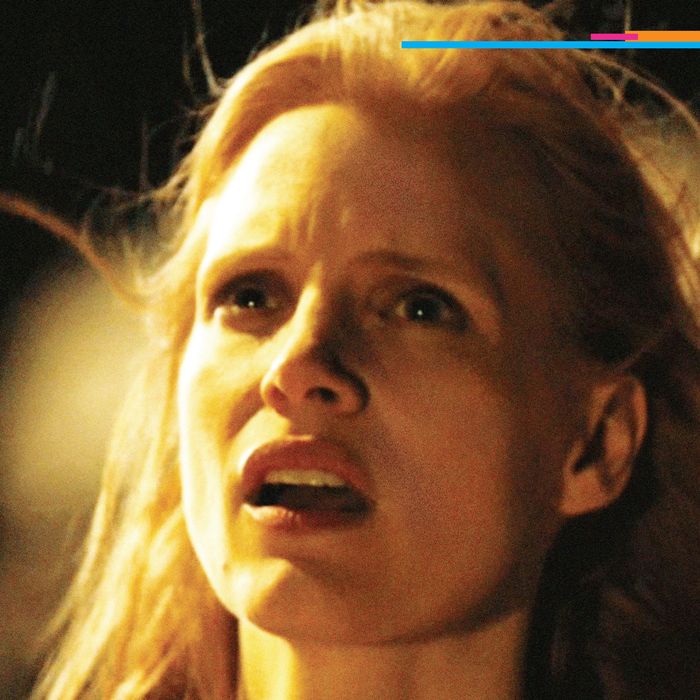 1. Zero Dark Thirty
It opens in darkness with sounds, sirens, and sobbing phone calls from the burning Twin Towers. Revenge—such as it is—will take time. Kathryn Bigelow's thriller is mercilessly gripping. It's all hurry up and wait, hurry up and wait. Captured suspects don't want to talk, and wearing them down—with waterboarding, sleep deprivation, and other methods of extreme interrogation—takes weeks, months, each day uglier than the last. 
Money, lots of it, must be freed up, operatives inserted into dangerous settings. There is always another busy, professionally skeptical CIA bureaucrat to be pitched—and then he'll have to pitch his superior, who'll have to pitch his. All of them, up to the (unseen) top honcho, ask, "What are the odds that this is Osama bin Laden?" The question still hangs as the Navy seals board the craft that will carry them into Pakistan, where, at zero dark thirty (half past midnight), they'll don their night-vision goggles and burst into the compound—and hurry up and wait, and hurry up and wait. Most of the people they kill will be unarmed, with extra bullets pumped into prone bodies for added certainty. Bigelow and screenwriter Mark Boal (who wrote The Hurt Locker) give you one lonely protagonist, but she's not in every scene and she doesn't fight—except to make herself heard: a CIA analyst, played by the arresting Jessica Chastain, who shows her character's rage via tension in her face and body. This is a phenomenal piece of action filmmaking—and an even better piece of nonaction filmmaking. It also borders on the politically and morally reprehensible. By showing these excellent results—and by silencing the cries of the innocents held at Abu Ghraib, Bagram, and other "black sites"—it makes a case for the efficacy of torture. How to reconcile these two feelings? The debate begins December 19.
2. Lincoln
Steven Spielberg comes at our sixteenth president from an unexpected angle: He's an executive pushing a vital piece of legislation through a Congress full of boobs, cowards, and racists. How modern. The peerless Daniel Day-Lewis lets you see the wheels turning in that overfamiliar head. James Spader, John Hawkes, and Tim Blake Nelson can lobby for me anytime. (Read the full review.)
3. Amour
The elderly Jean-Louis Trintignant watches his wife (Emmanuelle Riva) slowly fail, the vestiges of high culture crumbling with her body. The punk-sadist Michael Haneke finally made a film in which his cruelty is a kindness—i.e., a higher form of compassion.
4. The Gatekeepers
A documentary that's even more real than Zero Dark Thirty—and, given that it's about the Israelis and Palestinians killing one another, shockingly lucid. Director Dror Moreh brings together six former heads of Israel's secret service, who tell us what we already know. But they really know.
5. The Deep Blue Sea
Terence Davies's free adaptation of Terence Rattigan's 1952 adultery drama is a tone poem of genius, the camera in harmony with the music, the images held together by pure emotion. (Read the full review.)
6. Life of Pi
There's nothing safe or cute about Ang Lee's 3-D, CGI-infused fairy tale in which a boy drifts through the South Pacific with a man-eating tiger. For once Lee's over-meticulousness connects with his hero: The film is a testament to the transformative power of storytelling in the face of unimaginable horror. (Read the full review.)
7. How to Survive a Plague and Ai Weiwei: Never Sorry
Two documentaries, one historic, one up-to-the-minute, about getting out the message, taking to the streets to forestall the AIDS epidemic, and to Twitter to drive a totalitarian government nuts.
8. Pitch Perfect
This a cappella rom-com musical for teens zaps you into happy submission, with Anna Kendrick leading a cast that sings as well as it zings. (Read the full review.)
9. Oslo, August 31st
It's 24 grueling hours in the life of a cleaned-up junkie on his first trip to the big city after a year in rehab. Director Joachim Trier depicts the ache of a man for whom transcendence is beyond reach, then the liberation that becomes a death spiral. (Read the full review.)
10. Friends With Kids
Jennifer Westfeldt's ensemble comedy has a nervous, high-strung rhythm, as if the characters' backs are against the wall and the biological clock is ticking down. The intensity feels just right for a look at How We Breed Now. (Read the full review.)
Plus: The Good

Best Film of 2005 (First Viewed in 2012)
Margaret
Kenneth Lonergan's extended "director's cut" (available on DVD) of Margaret, the story of an overdramatizing Manhattan teen (Anna Paquin) and her tumultuous coming-of-age in a world in which no one really knows (or feels for) anyone else. It's more than half an hour longer than the version released theatrically—but feels half as long. (Read the full review.)

I Love You, Too, Damn It
Holy Motors, Flight, Starlet, The Perks of Being a Wallflower, Detropia, Monsieur Lazhar, Killer Joe, Skyfall, Silver Linings Playbook, Take This Waltz, Return, Beasts of the Southern Wild. [Read more on Edelstein's runners-up — as well as his thoughts behind this list — here.]
Make Way for a Duckling
Quvenzhané Wallis
A star—no, a nova—arrives in the form of little Quvenzhané Wallis of Beasts of the Southern Wild.
The Bad

Biggest Disappointment
The Campaign: Brilliant as they are, Will Ferrell and other satirists couldn't compete with the Republican primaries for absurdity.
Biggest Shrug
Atlas Shrugged II: The Strike: They built that, you didn't come.
Most Honorable Failures
Anna Karenina, Wuthering Heights: We salute these filmmakers for their bold artistic choices, however catastrophic the outcomes.   
Note: Not seen at press time: Django Unchained, The Hobbit, The Guilt Trip, and Tabu.
Click Here to See More From the Year in Culture 2012
*This article originally appeared in the December 10, 2012 issue of New York Magazine.