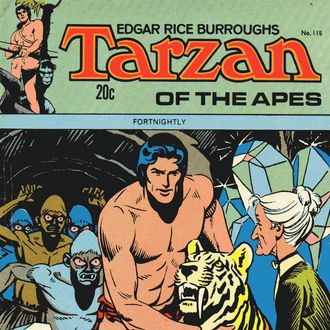 David Yates, the director of the last four Harry Potter films, has finally committed to his next project — and we're told it will be a big-screen adaptation of Edgar Rice Burroughs's Tarzan at Warner Bros. Pictures.
No word on its cast — Yates only committed to the project on Monday — but we hear that Yates is meeting with up-and-coming actors like Man of Steel's Henry Cavill, Pacific Rim headliner Charlie Hunnam, and True Blood's Alexander Skarsgård.
(We also hear that the studio is keen to get a meeting with Tom Hardy, who has put in his time on Warner Bros. blockbusters like The Dark Knight Rises and Inception, but less clear is whether Hardy shares the studio's enthusiasm for that part.)
The project has been in development with Ocean's Eleven producer Jerry Weintraub for years, most recently (and surreally) attracting Hustle & Flow director Craig Brewer. In any event, here's hoping things goes better than the last Burroughs adaptation to hit the big screen: John Carter, which cost Disney $200 million in losses earlier this year.