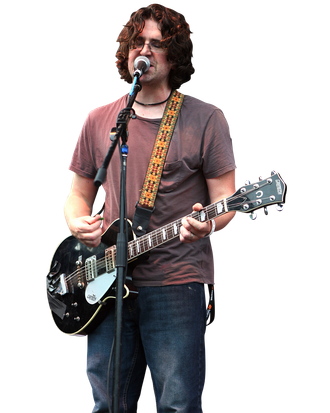 Dinosaur Jr's Lou Barlow.
Photo: Getty Images
The alt-rock trio Dinosaur Jr, which formed nearly three decades ago out of a hardcore band called Deep Wound, are as famous for their intra-band squabbling as they are for their sound. Bassist Lou Barlow was dumped in 1988 after three albums and drummer Emmett Jefferson "Murph" Murphy III was all but gone by the time Bill Clinton took office. Frontman J. Mascis carried on until 1997, when he retired the Dinosaur name. Then, in 2005, they reunited unexpectedly, and the three albums released since are as vital as their original material; if they've mellowed with age and reconciliation, it's not apparent in the shredding. Vulture caught up with Barlow as the band tours in support of its tenth album, I Bet On the Sky.

How does a band that was so legendarily dysfunctional get over the personality clashes to reunite?
For me, there was kind of a moment. I went back and reread the Dinosaur chapter in Our Band Could Be Your Life, and it was so depressing. So when I got a call from our manager saying J's written some demos and we want to do a reunion, it was like, I do want to change the end of the story.  Because the first ending was pretty shitty.
So you've been able to broker a peace?
We never sat down and hashed out the past with a mediator. But a lot of time had passed. And I realized that demonizing a large chunk of my life and other people is not particularly healthy. I didn't come back looking for answers. I came back because I love the music.

Does J. still dictate everything, down to Murph's drum fills?
He tells Murph what to play explicitly and he has since the second record. With me, he used to write a lot of the bass lines, but he doesn't do that anymore. I'll come up with my own, but I'd be happy if he wanted to do them. Whatever it takes to write a Dinosaur Jr song.
On your very first time on the road, in 1987, you toured with Sonic Youth. What was that like?
It was the first time the three of us left our comfort zones, or even our hometowns. We were driving across the country and opening for the coolest band in the world. Everybody loved Sonic Youth. We were in Buffalo and people had baked them a fucking cake! I was so totally overwhelmed by how cool they were, I couldn't even speak. It was definitely magical.
Nirvana opened for you in 1991. You actually confronted J. after they broke, saying that it could have been you guys. Is that still a regret?
I don't think we could have done what they did. But I do think if the original trio had stayed together we could have done more and gone further than we did. But when I said that to J., I was pretty high. That statement doesn't ring true now. And everything worked out great. To bicker over what could have been is silly.

You named your son Hendrix, after Jimi. Why didn't you choose a bass player? Entwistle has a nice ring to it.
He was born on Hendrix's birthday, and he was delivered by a doctor named Hendrix who had met and worked with Jimi Hendrix. It's kind of hard to name your kid after the greatest guitarist of all time, but the confluence of factors was just too great to ignore.
How are three middle-aged guys creating music with a level of energy that exceeds what they had originally?
We haven't changed the way we play. I pick up a bass and beat the shit of it, the way I always have. 

You'll be playing You're Living All Over Me in its entirety at the New York City show, marking the album's 25th anniversary.  Is that your favorite in the catalogue?
Yes, definitely. It's fucking great. I love how heavy it is and how disjointed the songs are. It's also the record where I did my ukulele tape collage piece [the psychedelic oddity "Poledo"].  That was an epic moment for me, because it was my first real contribution as a songwriter.

Legend has it that eerie voices heard in the background on "Raisans" and "In a Jar" are from recordings you surreptitiously taped at a mental institution. How did that come about?
It was a nursing home. I was working there as an orderly. Being older I'm like, What an asshole I was for doing that, but at the time I was making a lot of tape collages, and I'd record funny, weird stuff. There was a woman whose back was always itchy. I'd rub cream on it and she really loved it. And I recorded her responses. There was another guy who, when we put him into the bath, he screamed like he was dying, so I recorded that. I feel like I could still go to prison for this. It was really, really, really uncool.