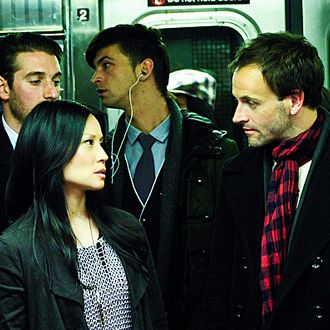 "Pilot"– ELEMENTARY stars Jonny Lee Miller as detective Sherlock Holmes and Lucy Liu as Dr. Joan Watson in a modern-day drama about a crime solving duo that cracks the NYPD'™s most impossible cases. ELEMENTARY premieres Thursdays, September 27th,(10:00-11:00 PM ET/PT) on the CBS Television Network.
Photo: John Paul Filo/CBS
CBS has tapped Elementary for the fancy-schmancy post–Super Bowl slot this year, the network announced today. The Sherlockian series has been doing well on Thursday nights, but in the last ten years or so, reality shows have fared better than scripted shows in the Super Bowl lead-out time slot: Survivor: All Stars in 2004, Undercover Boss in 2010, and The Voice last year pulled in 36, 39, and 38 million viewers, respectively, but other than Grey's Anatomy in 2006, no scripted show has cracked 30 million. Anyway, mazel tov, Elementary.