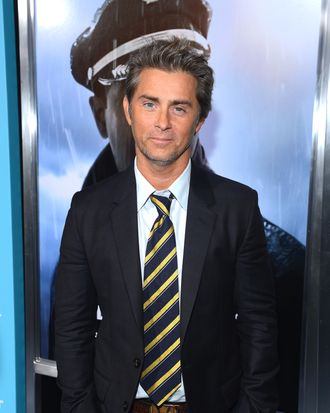 John Gatins.
Photo: Mark Davis/Getty Images
"I love a movie where people are cheering for a drug dealer to deliver the goods!" John Gatins says, a broad, devilish smile on his face. Gatins is the screenwriter of Flight, and over breakfast at The Four Seasons, he's recounting the audience reaction to one late-movie scene where Denzel Washington's alcoholic airline pilot Whip gets so bombed before a crucial day of testimony that Whip's handlers resort to an unusual Plan B: They call in John Goodman's good-time drug dealer Harling Mays to get Whip back on his feet by supplying him with a few rails of cocaine. "I think everyone has a Harling Mays in their life. I would argue that I was probably some people's Harling Mays as a younger man," says Gatins. "Not every drug dealer is what you think that person is. They can have kids and be great people."
The 44-year-old Gatins, for example, is married with three children, a successful, good-looking Hollywood talent who scripted Real Steel and directed Dreamer: A True Story … and he's been in recovery since his addictions got out of control at age 25. It's a backstory that's inextricable from the story of Flight — where Whip, deemed a hero after piloting a downed plane with minimal casualties, finds it a far tougher task to kick his addiction problems — and so it's one that Gatins will inevitably have to discuss over and over in countless awards season Q&As and press interviews. So far, he's winging it.
"I was really apprehensive about it, you know," Gatins admits. "The truth is, I'm a soccer dad, a suburban dad just like lots of people in America, and I work in a business that kind of asks us not to live a private life." Case in point: When the Los Angeles Times ran a recent profile of Gatins, the screenwriter tried to avoid telling the reporter any anecdotes about his druggy past ("It wasn't like I was Jesse James, some famous gangster outlaw," justifies Gatins), only to find that a pal had unwittingly done the job for him, recounting their coke snorts and bong hits till dawn.
"I don't know what the article's intentions were entirely, but I learned a lesson a little bit," says Gatins, who admits he felt anxious to see his lowest days spilled out in newsprint. "My wife said to me, 'Look, people who know you don't care. They've known you long enough to know.' I got sober when I was 25, I'm 44 years old now. I'm really happy. I'm not the face of anything."
Of course, though he can't boast the famous mug of Denzel or John Goodman, Gatins is still one of the important faces of Flight, and the questions about his drug history will keep coming whether he likes it or not. Goodman himself was candid about his recovery in a talk with New York's Jada Yuan earlier this month, but in a subsequent interview with The Guardian, he bristled when the same topic came up. "This is not something I want to chat about to sell a fucking movie," Goodman said. "I have to dredge up some very unpleasant things and it's just not worth it. What's the fucking point?"
At the same time, Oscar season demands a narrative, and Gatins is aware that his personal journey provides a compelling one. It's a dilemma previously faced by screenwriter Stephen Gaghan, who came clean about his past addiction to heroin and crack in a powerhouse New York Times profile before winning the Oscar for Traffic: Some industry insiders praised him for his candor, while others whispered that he had turned his backstory into a valuable, award-courting commodity.
"I know Steven Gaghan, by the way, I've known him a long time," says Gatins. "I kind of felt like that New York Times piece he did was sort of an answer to a lot of questions he was getting like, 'Who are you to talk about this?'" Gatins realized he'd be called upon to do the same thing two weeks into production on Flight, when a unit publicist began quizzing him about his personal connection to the screenplay. "I was like, 'You know what, let's table this conversation for the moment.' And I remember walking out of the soundstage, looking over these little hills in Georgia, and I started making [panicked] phone calls to L.A. I wasn't smart enough to connect these dots to realize that we're actually making this movie and people are going to say, 'So the author of this movie, what the fuck was he thinking?'"
In his personal life, Gatins doesn't drink alcohol, but he's hardly an abolitionist; at one point on set, Gatins protested to Zemeckis that Whip was pouring out far too much alcohol during one short-lived stab at sobriety — way more beers and vodka bottles than any normal person would stash away in his home — and Zemeckis replied, "You've got more liquor in your house than he does." "Truth is, I do," admits Gatins. "We entertain people, I get Champagne and wine and booze and whatever, it's in my house." And if Gatins can navigate those temptations, perhaps the crush of Oscar season won't be so unmanageable.
The waitress comes over to check on his scrambled eggs, by now quite put away, and while an early Flight scene finds thirsty Whip walking away from a very similar hotel breakfast to seek some vodka, Gatins asks for a simple water. The waitress points out a full glass already sitting on the table, gone unnoticed behind the orange juice. "Oh, you mean that water?" laughs Gatins, inspecting it. "Are you sure that's two parts hydrogen? Can you ask the chef?"