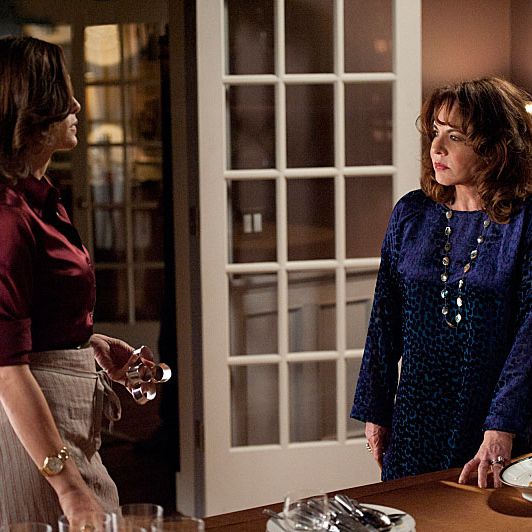 Photo: David M. Russell/CBS
Ah, Thanksgiving: There's turkey and cranberry sauce, your mother-in-law and her dashing Latin caretaker/lover making everyone just this side of confused, a life-size stuffed giraffe presented without comment, and, if you're very lucky, a misguided, aggressive quickie in the bathroom after the meal. There was almost too much going on in this Very Special Holiday dose of The Good Wife — and we haven't even mentioned the case of the wee —but most of it was just so gosh darn delightful that we're still counting it among our favorite episodes of the season. Who else out there could watch Stockard Channing have M&M conferences with David Lee all day? And let's not even start on the mom-on-mom kitchen wars. "Paying for it seems to run in your family," says a wine-swilling Veronica to Jackie, after she asks her how much Cristian charges. Gold.
But before we get to all that, let's welcome back Judge Claudia Friend (Bebe Neuwirth), whom we last caught up with on that wacky Colin Sweeney turkey baster episode last season. Here, she's again wonderfully measured presiding over a quite complicated and timely case involving wire taps, spousal privilege, and the Defense of Marriage Act. Brian Dennehy returns on offense as Bucky Stabler, and the great Bruce McGill is onboard as superlawyer Jeremy "this is my right hand" Breslow, who persuades L&G to go big and invoke DOMA to potentially set a new precedent. (Sidebar: Is he The Good Wife's first MacGyver vet?) It's not until halfway through the case that Diane realizes McGill's playing them: He wants their client to lose so he can try to take the case to the Supreme Court. "This is a tricky one," says Judge Friend. Yup.
It's also a canny move on the part of the writers to bring everyone's favorite little brother Owen back during a case of the week that resonates with his character personally. We hadn't heard much from him since the season premiere — remember that station wagon? — and, as much as we love seeing Alicia in her giggly sibling dynamic with him, we especially enjoyed seeing Owen's pride as he watched his sister argue for gay rights. "I'm glad you're doing this, sis," he says after a day's testimony. Aw.
For a dude whom last week we thought was beaten within an inch of his life and left for dead in a rainstorm, Cary's awfully chipper this week. The only evidence of the assault is a fading black eye. "Basketball," he explains to Will and Diane. Things are a little more on the surface when he has his tow truck showdown with Nick. (Sidebar: Nick in his mechanic's outfit is practically as bad as shirtless Nick. Is this almost over?) We're not quite sure that Cary suspects Nick is behind the beating yet, but he knows the guy is bad news. "I've looked into everything there is to know about your business," he says. "So in case of any trouble, I'll know what you know." Yikes, but ballsy talk with a smile is quite a good look for Cary.
There's also the subplot with mom and her dead third husband, and, of course, this being The Good Wife, there were plenty of threads that were just skipped over this week — Eli, Kalinda, Zach and Grace, Hellinger — but in the end, the heart of the episode was just having everyone home for the holidays, dysfunction and all. "The older you get, the more you realize, there's only one thing: happiness," says Veronica to Alicia, in a quite touching monologue near the end after she urges Peter to let his wife go. And, cue toilet sex. Ah, family.
Loose Threads:
Vagina — finally! Veronica to Will: "Basically what she says is that our obsession with the clitoris is unhealthy." "Mom!" says Alicia. Ha.
What is going on with Cristian and Jackie? Is anyone a tad concerned?