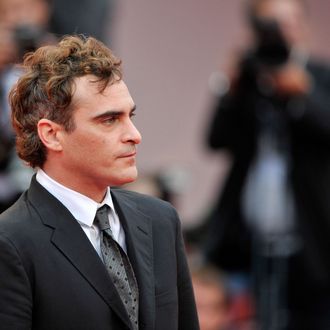 Photo: Gareth Cattermole/Getty Images
Last month, Master star and noted joker Joaquin Phoenix gave some rather candid Oscar-related quotes to Interview magazine (Sample: "I think it's total, utter bullshit and I don't want to be a part of it."  While we're at it: "It's the stupidest thing in the whole world."  There are more.)  The piece might not have ruined his Oscar chances, but it certainly did not help — nor did it do anything to boost The Master's flagging Best Picture campaign.  It looks like someone made this last point abundantly clear to Phoenix, because right on time, here is his humbled, "I didn't mean that" non-apology.  "I guess I sound like a dick," it begins.
He continues:
"I didn't even know that I was in a position to do something that would cost me something," he says before getting serious. "But I know that first of all, I wouldn't have the career that I have if it weren't for the Oscars. I haven't been in a lot of movies that have made a lot of money … And getting nominated for a movie has probably helped my career tremendously. But in some ways it's the antithesis of what you want to be as an actor. You're always trying to free yourself of the artifice, which is really difficult. Especially when you suck, like me."
The self-depreciation route! Wise. But will he go to the Oscars if nominated?
"Come on man, you know that it's more complex than that."
(Translation: "Yes, Harvey's making me.")
"It's not like I fucking hate the Oscars." 
Well, that should warm the Academy right up.