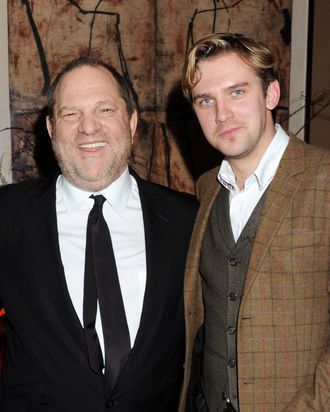 LONDON, ENGLAND - DECEMBER 11:Harvey Weinstein (L) and actor Dan Stevens attend a VIP Screening of 'The Artist' hosted by the Weinstein Company at Charlotte Street Hotel on December 11, 2011 in London, England.
Photo: Dave M. Benett/Getty Images
As with all reports from the U.K. tabloids, this should be taken with a boulderlike grain of salt, but: A source on the Downton Abbey set claims that the handsome Dan Stevens will not be returning for the just-confirmed season four. "He will probably do the first episode of the fourth series, but that will be it" goes the rumor; pair that with Stevens's own uncertainty ("I don't know if I will be returning"), and, well, we're nearing crisis mode here.