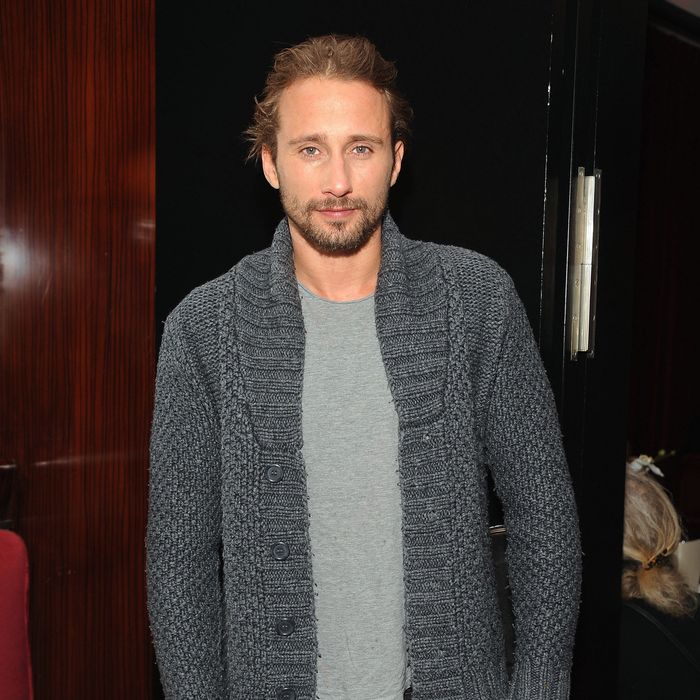 Matthias Schoenaerts attends TheWrap's Awards Season Screening Series Presents "Rust And Bone" on November 14, 2012 in Los Angeles, California.
Photo: Gary Gershoff/Getty Images
"Oh, wow! Jesus! Wow." Matthias Schoenaerts stops in his tracks halfway up the mountain, looking down from his vantage point at a wide swath of Los Angeles, the sky above perfectly blue and unsmogged after a weekend of cleansing rain. "I shouldn't curse, but … wow. Oh, ho, ho. Beautiful. I need to take a picture."
Schoenaerts is impressed by the view on this beautiful November afternoon, and the other hikers on this Runyon Canyon trail are impressed by him. Runyon is a great place for people-watching — it's where buff and beautiful Hollywood wannabes go to work up a sweat and potentially glimpse an exercising star like Jake Gyllenhaal — and today, this rising actor in the tight white V-neck and camo shorts is the object of most people's attraction. Six-foot-one, blond, and built, with an easy charisma and a raspy, deep voice, the 34-year-old Schoenaerts invites comparison to thinking hunks du jour like Ryan Gosling, Michael Fassbender, and Tom Hardy. And though he hasn't yet achieved their online dreamboat status, fellow hikers tend to give him a second, covert glance. He looks like he should be famous. And rest assured: Hollywood is working on that.

The Belgian-born Schoenaerts is in Los Angeles to promote Rust and Bone, a new French drama where he plays a brutish kickboxer who becomes involved with Marion Cotillard's animal trainer after she loses both her legs in a killer whale accident. (Just go with it.) Initially, they're uneasy friends — both are moody loners with almost willfully screwed-up lives — but Cotillard's character, hungry for connection and sex, starts eyeing Schoenaerts like he's dinner and dessert all at once, and soon the two hit the sheets. Emotionally, though, he still remains just out of reach, and it's a credit to the subtle Schoenaerts that we can read what's going on beneath that implacable face, while understanding that Cotillard can't. At Cannes, where the film premiered this past summer, I watched women conflate Schoenaerts with his character and swoon over his tantalizingly hard-to-get personality; in real life, the actor is upbeat and talkative, with just a bit of masculine reserve. He grins as he takes a picture of Hollywood, the city he's just now getting to know.
Rust and Bone is the capper to a breakthrough year for Schoenaerts, who was in Los Angeles back in February to celebrate a Best Foreign Film Oscar nod for Bullhead, a Belgian drama directed by Michael Roskam that won Schoenaerts some promising notices for his work as a steroid-addled cattle farmer. "That was overwhelming," he admits, recalling the Oscar jaunt as we head further up the mountain trail. "I felt like we were in a laundromat, because me and Michael, we got bum-rushed over and over. It was just too much, and too fast. Agents were all over us, managers were all over us … it was like, 'What the hell?' We had said, 'Let's go out to the States and see what happens, let's be cool.' And then there was no time to chill. No time whatsoever."
That hasn't changed. Directors and casting agents are working overtime to solve the current drought of new leading men, and our willowy crop of boyish American actors has got them anxious to outsource. Possessed of an easy athleticism (Schoenaerts claims he's currently suffering from a soccer-related knee injury, though you wouldn't know it by how quickly he bounds up the mountain) and a foreign accent so faint that it's barely discernible, Schoenaerts is casting catnip: Before the hike, I get an e-mail from a source working to cast one of 2014's biggest tentpoles, who asks me, unprompted, to spill what I know about Schoenaerts.
"With Rust and Bone coming out, I'm falling into the laundromat again," acknowledges Schoenaerts. "But maybe now I know how to deal with it a little better."
He finds a small outcropping of rock and comes to a halt. "What do you think of sitting down and looking over the city?" he says, pulling out a cigarette. I ask him about his father, Julien, a respected Flemish actor who passed away six years ago after battling Alzheimer's. "He was a very eccentric, extremely talented, weird human being, and one of a kind as an actor," says Schoenaerts. "If he would have spoken English, he would be amongst the mythical actors like Marlon Brando and Laurence Olivier."
Reluctant to follow in his father's footsteps, Matthias resisted the family vocation for years while growing up, but still found himself drawn to acting school at age 21. "It sounds weird, but I didn't realize I was an actor, even then," he laughs. "And then I had to tell people, 'I'm an actor,' and I went, 'Oh shit. I am an actor now. It happened!'"
Still, he's not an easy actor to pin down, and he prefers it that way. He chuckles over a recent magazine article that misidentified him as French, thanks to his convincing work in Rust and Bone. "To me, it's extremely liberating to act in other languages," says Schoenaerts. "It's weird what I'm gonna say now, but French and English are really good cinema languages … for me, [speaking] Dutch is not as captivating in a film." Isn't he afraid that sentiment might get back to Antwerp? "We don't have this nationalistic pride in Belgium," he laughs, waving his cigarette in the air. "We're a country that's been invaded so many times."
Schoenaerts says he's ready for his next challenge. Both Bullhead and Rust and Bone required months of preparation, much of it physical; in the latter movie, Schoenaerts is buff and built but noticeably lacking in a six-pack, at the insistence of director Jacques Audiard. "I was like, 'Okay, let's grow a belly!'" Schoenaerts says, smiling. "It's not a guy who spends hours and hours at the gym: He eats crap, he doesn't have the means to feed himself properly." Was it fun to pig out on the things he wasn't supposed to? "You should say so, but I don't know," he sighs. "After a while you're like, 'Jesus Christ, I'm done with this crap.'"
Since the movie's debut at Cannes, Schoenaerts has filmed a supporting role in Blood Ties, an English-language crime drama directed by Guillame Canet, Cotillard's longtime partner. "He's a persistent little fellow," laughs Schoenaerts, who had hoped to take the summer off, yet found himself persuaded to take the role of Zoe Saldana's jail-sprung husband in the film, a part that required "a full-frontal Brooklyn accent, which was a lot of fun."
So what will his next move be, now that Rust and Bone is opening in the U.S.? Schoenaerts demures as we walk back down the mountain, but shortly after the hike, it's reported that he's in final negotiations to star opposite Michelle Williams in Suite Francaise, where he'd play a German officer tasked with watching over a young French woman after the Nazis invade her country. (Yes, they fall in love.) In the meantime, he's been meeting with the directors he idolizes, including David Lynch, whose place of residence left quite an impression. "Someone picked me up and drove me over there, and when they pulled up, I was like, 'Hey, wait a minute! Is that the house from Lost Highway? Oh my God, I'm not going in there!'" How did their tête-à-tête go? "It was a very warm meeting. We didn't even talk about film that much, we talked about music and painting. And transcendental meditation, of course."
Schoenaerts has plenty more meetings scheduled over the next few days, but he's looking forward to them, if only to surprise the Hollywood players who think he must be French or practically nonverbal: "Probably they're like, 'Okay, we're gonna meet Matthias, and he'll be this brutish, big guy who we'd rather not talk to.'" Right on cue, an adorable mutt runs up the hill toward Schoenaerts, and the nerdy guy who owns him takes one look at Schoenaerts and tries to call the dog back: "Whoa, Jackson. He's not gonna play with you." Running a hand through his hair, Schoenaerts just smiles and presses on. He probably would have.