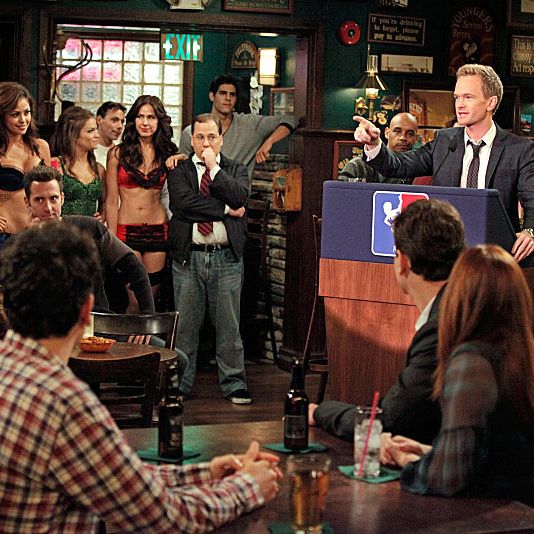 Photo: Richard Cartwright/FOX
It's been so long since HIMYM has been able to latch on to something real, something that the audience could actually relate to, that we have nothing but praise for last night's episode. It had everything: a solid driving device, memorable callbacks, and even a twist that we didn't see coming. Gone were the distractions of inevitably doomed relationships, which in previous weeks have pulled the core gang in different directions with mostly low-stakes storylines. It was just like old times.
The primary plot revolved around the competitive taking of credit for turning friends on to a certain band/restaurant/movie. It's probably a pervasive enough phenomenon, but rarely talked about, because no one wants to seem insecure enough to need constant acknowledgement of their savvy taste. (This is especially true of New Yorkers, for whom cultural currency is a priority, and the only way to get it is to be first to everything.) Last night, this notion was translated into a stamp of approval. Where Lily's opinion or stamp could be trusted, Marshall's was meaningless — he essentially hits "like" on the world's status updates. This we learn as the result of another great subplot, which involves the minefield that is helping friends get jobs. When Marshall finds a near-homeless Brad outside of his office, he eagerly offers to recommend him to Honeywell & Cootes, which everyone agrees is a huge mistake. Barney: "Leave the wounded behind."
But more than Marshall being "a stamp tramp" it was Ted's being a "piggyback stamper" that really got us. We feel for the writers — it's hard to add plausible dimensions to old characters, and yet this didn't feel like a tacked-on trait. Isn't it totally like Ted to let his mild pretensions lead him to insist he was the first to discover something? (We say mild because, well, Dishwalla isn't usually that thing.) The suggestion that he was unoriginal in his approval sent Ted tearing through his old video diaries (for which he got the idea from Winona Ryder in Reality Bites), trying to find something in life that he had approved besides an "ear, nose and throat doctor." (Again, classic Ted.)
Even the least interesting plot line was good, as Barney's search for a new strip club mimicked LeBron's protracted decision to sign with the Miami Heat. In fact, Barney and Robin have worked so well as wingmen ever since the first season that we were slightly disappointed to see it end in a kiss. We know that was inevitable, but their friendship is so much more fun.  
What we liked:
The return of Brad (Joe Manganiello). It looks like we haven't seen this guy since season five, but maybe we love him so much because he's used in moderation. (Speaking of, bring back Wendy the waitress!) His bro-ness works so well that his farting in the conference room and offensive "you know how they are" remark, which veered toward racist and settled for simply sexist, had us fooled. That a lawyer who graduated third in his class from Columbia could also be such a bonehead would hardly be the most implausible storyline to have happened on this show lately. So we did not see the following coming:
Brad's double-crossing of Marshall. This is disappointing from the standpoint of their friendship, of course — remember when these two advocated for the right of men to brunch together? — but it made almost more sense than down-at-the-mouth Brad. It turns out Brad tricked Marshall into getting him an interview in order to spy on his upcoming case against the nefarious Gruber Pharmaceuticals, which is pretty shady, but which bring us to:
Marshall in the courtroom. We want to say that this is the first time we have ever seen him in this setting, and yet it never occurred to us before to wonder why. (Most cases settle out of court? He's not a trial lawyer?)
Moneyballs. One of the many strip clubs that Barney considers runs its business according to Sabermetrics, or strippermetrics: There is never one really hot woman, but always two women whose separate assets combined get the job done.   
Dishwalla's "Counting Blue Cars." There was probably a lot of debate about which briefly popular but forgettable nineties song to use for Ted's bragging rights — Natalie Imbruglia's "Torn," New Radicals' "You Get What You Give" — but we truly forgot about this one, so well done.
Ted reveals himself as Dr. X, his beret-wearing Wesleyan alter ego, to such little surprise that Lily choreographs a spit-take. Also solid was the origin of Dr. X's name, as captured on video during a faux-philosophical rant during some "sandwich-smoking."
Robin as Barney's agent. The little hand-squeezing stress reliever was a nice touch.
Joe Lo Truglio as Honeywell, a boss with a Napoleon complex so serious his underlings have to lie about their own height to feed his delusion of being 6"1'. Brad refuses: "Maybe if you stood on that pot of gold at the end of your rainbow … "
What we didn't:
Marshall's foray into Rose Nylund territory with his story of the town wino who became mayor. That only happens in St. Olaf.
Ted's approval of Lily back in college. That is something he would have believably said, and it was so sweet, but Marshall actually admitted that he thought he would marry Lily during their road trip home in season two's "Arriverderci, Fiero."
It doesn't even feel right to continue with any complaints, though, because they just sound cranky. It seems to be a HIMYM strategy in later years to conserve the strongest plot points for one dynamite episode, and "The Stamp Tramp" was clearly it.