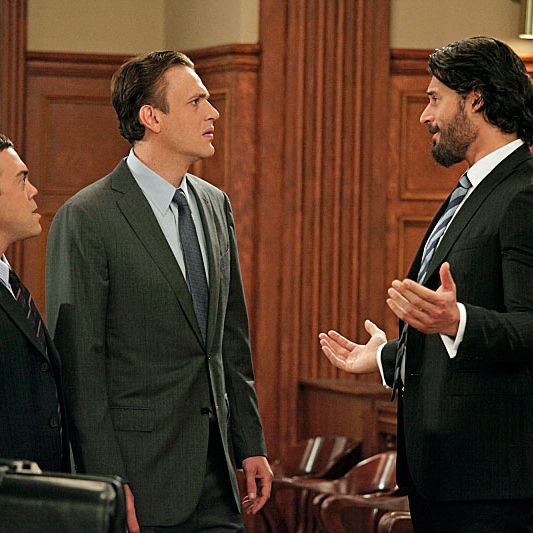 Photo: Richard Cartwright/Fox Television
Maybe Brad is the secret to HIMYM's success. Kidding, of course — but his return makes us nostalgic for the incredibly strong early seasons of the series, and with him he seems to have brought back the formula that made those episodes so potent, even if the writers hit the brunch call-back a little hard. Last night's episode was kind of timeless. Except for the flash-forward to Future Marvin, it could have existed before all of the soap operatic turns: Baby Eriksen, Ted and Robin, Robin and Barney, Ted and Robin again, Robin and Barney again — it didn't really matter (until the very end), and that's what matters. The heart and soul of HIMYM is this friend group, and though we may anticipate the Mother and enjoy some of the romantic drama that happens in between meeting her, the show works best when the gang is in it together.
So Marshall was appearing in court for his big case against Gruber Pharmaceuticals, and Ted arranged for everyone to take a sick day to support him. He gave Barney massive hemorrhoids, because "if you're going to miss work for hemorrhoids, they kind of have to be massive." Now, sticklers of the law will find flaw in almost every aspect of the proceedings: that it seemed to take only one day to settle, that Brad was allowed to seduce the jury and judge, and that the whole case wasn't thrown out for misconduct (who do the writers think they're fooling? We watch The Good Wife). But we're going to overlook everything, because this would be a pretty joyless recap if we didn't.

And also, we can't deny any episode that features a shout-out to Omar Little, the infamous Wire character whom the series has acknowledged several times before. The act of appearing in a courtroom has everybody competing to establish their badass cred. Barney proved his rap sheet when he bumped into a bailiff who didn't recognize him without his handcuffs. Robin claimed that she got a ZUI (driving a Zamboni while intoxicated) after her alter ego, Robin Sparkles, threw a wild party in a hotel room. Teddy Westside responded with an "au contraire" to Lily's accusation that he never misbehaved (Lily: "Off to a good start"), and recalled multiple lockups with mean-looking mugshots. And like Omar, Lily whistled the nursery rhyme "The Farmer in the Dell" while stalking the neighborhood with a baseball bat in place of a sawed-off shotgun.  

All told, "Twelve Horny Women" was an episode with, to quote Brad, "some integ" — other than its horrible title.

What we liked:
Each character's creative revisionist history versus their actual adolescence. Robin wasn't a smoking, hard-partying pop star. She made her own hotel bed and got an award for being the most well-behaved guest (but she is guilty of acid-washed denim). Barney was only wearing handcuffs because he was the youngest member of the Magic Enthusiasts Club and was able to pull off "slights of tiny hands" (Doogie-era NPH was pictured for extra laughs). Ted actually attended "Ren-ay-sance" Fairs, which was no surprise since he did that up until a few years ago. The Scared Straight! routine was a nice touch.
The nod to Big Dick Richie. The actor who plays Brad (Joe Manganiello) appeared in one of the best movies of the year (Magic Mike) as a stripper who uses a penis pump, so we're pretty sure the courtroom scenes that had him bending over to pick up a pen and bearing his body for some footage at Frog Lake were a G-rated acknowledgement of his physical assets. And don't you wonder whether the infamously well-endowed Jason Segel was at all threatened by this? Segel's manhood tends to come up often enough for us to think it's a point of pride.
Barney and Robin's shared jokes at Ted's expense. When a juvenile delinquent passed the gang in the courtroom hallway, Ted waxes nostalgic about his invented badassery, claiming that the kid was a picture of himself at age 15. Robin: "I don't get it, that guy wasn't masturbating." Barney: "And the waistband of his undies wasn't pulled up to his Cub Scout's neckerchief." It was an understated moment that allowed Barney and Robin to exchange a glance fraught with the discomfort of last week's kiss. We appreciated the subtlety.
Brad's lingo. It just involved shortening words (redepsh, redonk), which is all the rage these days anyway, but we particularly liked his suggestion that Marshall think about his "little dude's futch." Marshall: "I'm worried about planet Earth's futch." While it wouldn't stand up in a court of law, we also liked his argument that if the lake was so polluted, why didn't the birds fly to a different lake? It was the only thing he said that even approached logic.
Paddles the duckling being called into evidence because of his acute dermatitis. It was all very much in line with the pretty decent found-footage film The Bay, except cuter.
Lily as the ultimate teenage badass. Her nicknaming her first boyfriend Jeff as Scooter was a fine flourish, as was her "hassling the fuzz," as was her seventies pimp lingo, "jive-ass turkeys."
Brad and Marshall bringing brunch back at the Popover Pantry. We were glad these two acknowledged their friendship and buried the hatch.
Barney's plan to normalize things between him and Robin with two drinks and some comments about the "big, dark nipples" of the woman at the bar. Barney so often veers into caricature, but self-awareness like this makes him more of a believable character with, you know, a soul. It was appropriately vulgar, and yet somehow sweet.

What we didn't like:
Ending on yet another highly suggestive moment of a Barney and Robin romance. It seems like the past several episodes (not to mention countless episodes past) have introduced a semi-cliffhanger involving Robin as a love interest: Ted's breakup with Victoria, last week's kiss, and now Barney's declaration that he is ending his pursuit of her once and for all. It's like the only narrative thread in town.