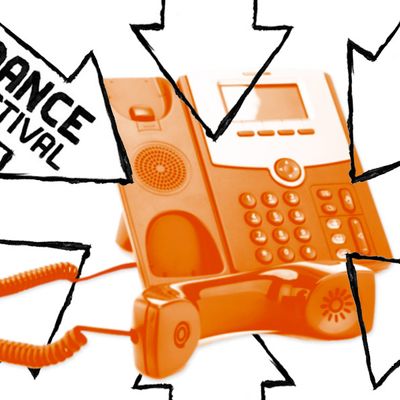 "You've been accepted to the Sundance Film Festival!" That simple sentence can make a career in an instant, so it's no wonder that when the Sundance brain trust calls up fledgling filmmakers to tell them they made they cut, it's a moment that's fraught for everyone involved. "I always cry!" admits festival director John Cooper, who unveiled the fest's 2013 competition slate yesterday. "I try to hide it, but I even cry at the retelling of it. I'm still trying to perfect my hard-ass attitude." Though Sundance is an expansive festival, not many filmmakers get that call: This year, a whopping 12,146 projects were submitted for consideration, and 113 feature films (51 of which came from first-time directors) were ultimately chosen. How exactly do those lucky filmmakers find out? Cooper and some of his alumni spilled the beans on one of Sundance's biggest moments.
When it happens
After a long summer and fall of screening films, Cooper and several of the top-level Sundance programmers attempt to lock in their lineup in mid-November. Two to three days later — typically on the Monday before Thanksgiving — they place their good-news calls.
"It's such a grueling process of submitting a film, and the anticipation of knowing or not knowing is equally intense," says Cooper, who started this year's big Monday by divvying up the calls among the other programmers, who claim the films they're most passionate about. Since he's L.A.-based and an early riser, Cooper typically starts by calling New York filmmakers to give them the good news. This year, the recipient of his first call was actress Lake Bell, who wrote, directed, and stars in the feature In a World … , where she plays a struggling vocal coach whose father is famous for narrating movie trailers. "It's one I felt particularly close to," Cooper explains. "I had met her at some other events, and I knew how personal this film was and how much it meant to her, so I wanted to let her know right away."
Fortunately, it's much easier to reach filmmakers right away these days; Cooper has been with the festival for two decades, and he recalls that before cell phones became so commonplace, the Sundance staff would often scramble to connect with an elusive filmmaker, employing friends, producers, and even family members to track down a director who wasn't returning his good-news phone call.
How people react
Cooper says that most directors acknowledge the call in one of two ways: There are the crying, screaming types who have to pull over on the freeway, and then there are the filmmakers who are so numbed by the news that they go quiet. "The men are the bigger criers, oddly enough," laughs Cooper. "Most of the women directors we call tend to get more excited and elated."
The programmers keep the phone call quick and encouraging after that initial shock, but some filmmakers find the news hard to take. "I try to tell them a little bit about the film and why I was drawn to it, but I never know if it's sticky or if they're listening," says Cooper. "I like the ones who say, 'Can you call me back? I can't process anything you're saying right now.'"
Some filmmakers are so stunned to be invited that they don't actually believe the good news. Cooper recalls that when he was programming the short films for the 1993 Sundance Film Festival, he caught a short called Cigarettes & Coffee at the IFC Market, directed by a then-unknown Paul Thomas Anderson. Cooper was so impressed that after the screening, he introduced himself to Anderson and invited him to Sundance on the spot.
"This was before e-mail," recalls Cooper, "so he tracked me down and called me the next day and said, 'Did I meet you yesterday? Did you say I was in Sundance? Are you for real?' He didn't believe it! He thought I was some charlatan pulling his leg. He said, 'It's just that easy?' Well, it's just that easy if you make a good film, yes."
What happens to the people who don't get in?
The filmmakers accepted into Sundance have plenty to give thanks for over the holidays, but not everyone is so lucky: Around the same time, Cooper and his staff deliver letters (and sometimes even place phone calls) to the entrants who didn't make the cut. "That's the hardest part of the job," he says. "It really is a bittersweet moment because you're making some people so happy, and others are going to be disappointed."
Many of the rejected films warrant an easy pass, but Cooper notes that there are always a few promising entries that still aren't deemed ready for prime time: Sometimes the movie was rushed to make the Sundance deadline, or perhaps it needs a more judicious second pass in the editing room. In those situations, Cooper tries to find the silver lining. "I've had people come back to me a year later and go, 'You know, that was the best thing that ever happened to me for that film,'" he says. "'It was hard in that moment, but I went back to the film and didn't rush it, and in the end, I made a much better film because you guys passed when you should have.' I take that to the bank every year."
What happens after the call?
For independent filmmakers who've been imagining that good-news call for months — and sometimes even years, since a projected Sundance berth is often a key part of putting together a film's financing — the rest of the day is often a joyful blur. "I remember we celebrated that night," The Sessions director Ben Lewin says, adding dryly. "I think the children were allowed to have dessert."
"I honestly felt this huge sense of relief more than anything else," says Lucy Alibar, who co-wrote this year's Sundance hit Beasts of the Southern Wild. Her film had been developed in the Sundance Labs, so when the Beasts team was notified that they got into the festival, "it felt like being able to have your baby at home with a really good midwife instead of in a creepy hospital."
Still, there's one last burden for filmmakers to bear on their way to Park City: They've got to keep their acceptance secret until the lineup is officially announced. "I know that's a strain, so I actually don't like to tell people too early because of it," says Cooper. "It's another kind of pressure to have … I'm protecting people from themselves!"
"I found it exciting!" says Lewin, who told only his family. "I love to have secrets, so I really thought that was one of the most fun parts of it, actually. I kept that secret! I didn't blab."
Alibar, on the other hand, kept the news from her mother — "If I told her, everyone would know, and it's over" — until the day of the announcement, when her mom was the first person she called. "She swore a lot, in the best way," laughs Alibar. "She's from Alabama: 'Holy shee-it, Lucy! Holy shee-it! Can I tell people? Holy shee-it!'"